C Is for Condom, P Is for Pill
November 13, 2022
PATTAYA, THAILAND—In a back room of the prophylactic-festooned Cabbages and Condoms restaurant, Mechai Viravaidya—aka "Mr. Condom"—treated visitors in town for the International Conference on Family Planning to an explanation of how the restaurant got its unusual name and décor.
We realized that "if contraception was going to work, we had to make condoms as easy to find as cabbages in the villages," explained Viravaidya, whose mission to promote acceptance of contraceptives in Thailand transformed the country's family planning landscape.
Early on, Viravaidya saw the importance of family planning to achieve a number of important goals in his country, including reducing poverty, suffering, deaths, and financial dependence on donors. He also "didn't think doctors should be spending their time prescribing contraceptives." He launched a new organization, Community Based Family Planning Services (which later became the Population and Development Association, or PDA) in the 1970s, and set about making it easy for people to access contraceptives—forging unusual allies across different sectors of society to eliminate obstacles and lessen the stigma associated with contraceptives.
It's in the Scriptures: Recognizing that support from Buddhist monks could prove pivotal, he approached religious scholars and asked them to look into any references to concepts related to family planning within Buddhist scriptures.
What they found: A scripture observing that many births cause suffering—and therefore, to prevent births is to prevent suffering. In a master stroke of branding, PDA partnered with their newfound religious allies to adorn contraceptives with an image of the scripture's seal-of-approval; they also enlisted religious leaders to sprinkle holy water on contraceptives.
It's elementary: PDA wanted to get teachers on board, too. Over 5 years, the group trained 320,000 teachers to help promote family planning, adopting creative tactics to reduce any embarrassment associated with the subject by holding condom balloon-blowing contests and creating messaging with a revamped ABCs: Think C Is for Condom, I is for IUD, P Is for Pill.
PDA showed a knack for creative—and often humorous—modes of distribution:
Enlisting cops to hand out condoms in "Cops and Rubbers" traffic stops

Partnering with village hair dressers to offer customer discounts for accepting contraceptives

Passing out prophylactics via boats in Thailand's floating markets
By the mid-1980s, it proved very fortunate that PDA had laid this groundwork, as Thailand saw its first confirmed cases of HIV/AIDS. As in many countries, advocacy groups in Thailand faced government resistance in raising awareness; the media was barred from sharing PDA's messages. Undeterred—adopting a "take 'no' as a question motto—Viravidya turned to his allies in the military—using their military's 300 radio stations and 2 television networks to get out the message that condoms save lives.
PDA also approached companies, reasoning with them that "sick staff don't work," and "dead customers don't buy."
Did it Work? New infections declined by 90%, saving an estimated 7,700,000 lives (per UNAIDS), Viravaidya told the ICFP visitors.
Viravaidya's leadership helped Thailand become one of the first countries to see a decrease in HIV transmission (along with Uganda), as Columbia University's Allan Rosenfield and University of California, Berkely's Malcom Potts note in a foreword to Thomas D'Agnes's biography of Viravaidya, From Condoms to Cabbages.
Image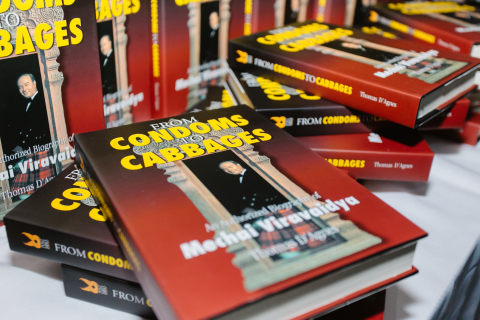 Rosenfield and Potts home in on one of the ways Viravaidya is an unusual leader—commenting that while many politicians adopt issues after ascending to their posts, Viravaidya flipped the script: tackling issues including concern for population and family planning issues, HIV/AIDS, and the environment before accepting political leadership roles (he later became a minister in Prime Minister Anand Panyarachun's government).
D'Agnes's writes that Viravaidya is "affectionately referred to as the Condom King," and condoms are known as "Mechais" in Thailand—an "honor" many people might object to, he notes. But Viravaidya "is not like most people," he writes, and "wears his crown proudly."
Viravaidya's legacy
Viravaidya, now 82, sees educating younger generations as the key to continuing his life's work. The Mechai Bamboo School—where children fast on Saturdays, "to learn how 500 million people" without enough to eat feel every day, and spend one day each month in a wheelchair—is a centerpiece of his legacy.
The rural boarding school in the Lamplaimat district, in the Buriram province of Northeast Thailand, enrolls about 180 students who are steeped in leadership, community development, and sustainable living, and abide by the UN's 17 Sustainable Development Goals. However, the school takes the SDGs a step further—adding 4 more goals: Empathy and Sharing; Rue of Law and Democracy; Honesty and No Corruption; and "Family Security."
GHN's Dayna Kerecman Myers is on location in Pattaya City, Thailand, for the International Conference on Family Planning 2022. Follow all of GHN's coverage from the conference here.
Join the 50,000+ subscribers in 170+ countries who rely on Global Health NOW summaries and exclusive articles for the latest public health news. Sign up for our free weekday newsletter, and please share the link with friends and colleagues.