Delicious and Nutritious: The Unrealized Potential of Red Palm Oil
September 01, 2022
OSOGBO, NIGERIA — On a quiet breezy morning in July, a group of women squatted along the narrow footpath that leads to a red palm oil processing farm in Akinlapa village in Osun state, Southwest Nigeria. They sorted bunches of walnut-size fruit, bursting with a red, viscous oil from its stalks.
Wisps of thick smoke filled the air as they repetitively boiled and filtered the fresh fruits with water.
The end product: Unrefined red palm oil, a staple of Nigerian cuisine. Beloved for its distinctive color and flavor, some consider it "un-Nigerian" to cook with any other oil—and producing it is a solid source of income for rural Nigerian women who make their careers selling it on as a cooking oil to local retailers.
"I have achieved a lot from this business. I sent one of my children to school till graduation; I sent another one to vocational school," says 45-year-old Saudat Olaniyan. She has worked on the farm since she was 15, following in the footsteps of her grandmother who also traded red palm oil. Today, Olaniyan makes an average of 55,000 Nigerian naira per day ($131) selling red palm oil—almost double the Nigerian minimum wage of NGN 30,000 ($72).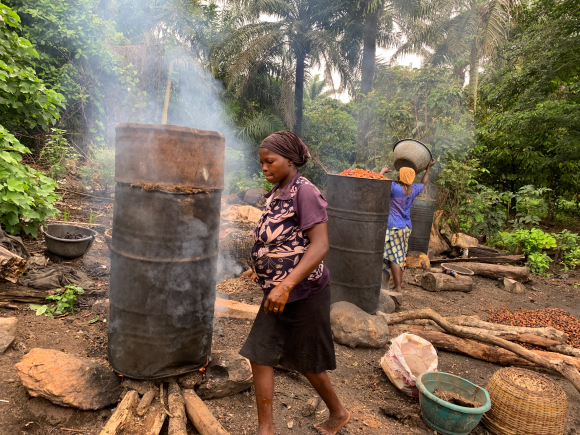 Beyond their love of the ingredient itself, the women in Akinlapa—and others across the West Africa subregion—are not only making a living, but also contributing to improving nutrition.
Unrefined red palm oil "is a rich source of carotenoids"—the pigments that give the palm fruit its distinctive color, says Oluwagbenga Sadik, a nutritionist based in Abuja. In the body, those carotenoids are converted into vitamin A—which is crucial for maintaining healthy vision and organ function.
Sadik notes that in a country where 28% of children are vitamin A deficient, the benefits of homegrown red oil—a highly efficient crop to grow—can contribute to relieving this deficiency while boosting women's incomes.
"It is always good to have a food-based source" of vitamin A, says Sadik, but to combat the deficiency, the country still relies on vitamin A supplements given to Nigerian children between the ages of 12–69 months at health centers.
"Why rely on synthetic vitamin A as a supplement provided by foreign companies when a local and natural food can do the job?" asks Hélène Delisle, professor emeritus at the Department of Nutrition, University of Montreal, Canada .
Over a decade ago, she published a study in Burkina Faso that demonstrated the potential of doing just that. It showed the multifaceted benefits of increasing the production of RPO by women—that people would be willing to buy RPO as a food supplement for mothers and children, and that vitamin A malnutrition would be reduced while increasing women's income by supporting a homegrown supply of the nutrient.
But scaling up such initiatives across the region has been held back for several reasons. One is the common misconception that all types of palm oil are unhealthy and unethical.
The Burkina Faso project "had a dual objective: nutritional, and improved income for women," Delisle says. But that posed a problem: "Donors are not at ease with projects with objectives in different areas; and because of lack of information, there is a false belief that any type of palm oil is detrimental to health because it is highly saturated," she explains. "The truth is that unrefined palm oil is full of antioxidants and the composition of its fatty acids is not atherogenic"— meaning it doesn't spur the buildup of fatty plaques in the arteries, says Delisle. 
But when people think of palm oil, what often comes to mind is this product's better-known cousin: industrially produced palm kernel oil.
While palm kernel oil is also extracted from crushing the nut of the palm tree, unrefined red palm oil is derived from squeezing the fleshy part of the fruit—the mesocarp.
Refined palm oil is an odorless, colorless, shelf-stable product found in some 50% of the packaged supermarket products worldwide. It's in everything from spreads to cosmetics to cleaning products, hair care, soaps, and biofuel. It is also high in saturated fat, and more than half of its antioxidants are stripped through the industrial refining process.
Palm oil is an incredibly efficient crop to grow, supplying 40% of the world's vegetable oil demand on less than 6% of the land used to produce all vegetable oils.
In 2021, the global production of palm oil was around 73 million metric tons in the marketing year.
But the mammoth refined palm oil industry relies on large plantations that are notorious for spurring deforestation, destroying species' habitats, and exploitative labor practices.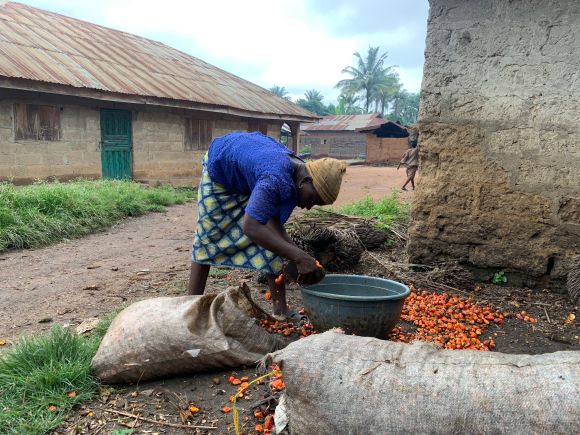 Around 90% of the world's oil palm trees are grown on a few islands in Malaysia and Indonesia, where tropical rainforests have been cleared to make room for large oil palm plantations, destroying critical habitat and contributing to greenhouse gas emissions.
Nigeria was the world's leading palm oil producer in the early 1960s. However, in subsequent decades, Nigeria became an importer of palm oil after focusing on crude oil exports and today, the country produces less than 2% of global output. While Nigeria's role in the global palm oil industry has shrunk, crude red oil has potential as a healthier local alternative.
Farmers say there's room for the unrefined red palm oil operations to grow sustainably, and provide a healthier local alternative that contributes to women's incomes. Further investment would also help make the product more versatile.
While red palm oil has a much shorter shelf life than its refined cousin, Delisle also said there may be ways around that. She points to Malaysia: "they developed a technique to refine the oil, thus increase its quality and shelf life without destroying the provitamin A carotenoids; this could be transferred in West Africa, notably in Nigeria and Côte d'Ivoire." But it would take investment, she adds: "A regional distribution system would also have to be designed and implemented."
Olaniyan has experienced these limitations first-hand. Lack of significant support ranging from soft loans to provision of viable planting materials and other input supplies is limiting production, Saudat said.
"There has been little to no support from the government. If we had, the business would have grown beyond this. We're just managing ourselves, taking care of our families with the little we make here. If the government can empower us, it means an increase in production capacity and a better livelihood for us doing it," Olaniyan added.
Abiodun Jamiu is a freelance journalist based in Sokoto, Northwest Nigeria, focused on social justice, conflict and humanitarian issues. His work has appeared in Al Jazeera, The Guardian UK, Newlines Mag, and others. He tweets @Real_Abiodun01.
This story is part of Global Health NOW's Local Reporting Initiative, made possible through the generous support of loyal GHN readers.
GHN thanks Hélène Delisle, a University of Montréal professor emeritus, for submitting the idea for this story. Her submission won an Honorable Mention in our Untold Global Health Stories of 2022 contest with the Consortium of Universities for Global Health.
Join the 50,000+ subscribers in over 170 countries who rely on Global Health NOW summaries and exclusive articles for the latest public health news. Sign up for our free weekday newsletter, and please share the link with friends and colleagues.