In Zimbabwe, COVID-19 Vaccine Mistrust Stokes HPV Vaccination Fears
March 24, 2022
HARARE, Zimbabwe – At first, things went very well.
Faced with the 4th highest incidence of cervical cancer in the world, according to the World Cancer Research Fund, Zimbabwe introduced a 2-dose human papillomavirus vaccine in 2018 that targeted 800,000 girls aged between 10 and 14 years old.
The response was huge. First dose uptake in 2018 ranged from 88% to 94% of eligible girls, according to a 2019 study in the journal Vaccine. Second dose uptake ranged from 75%-86%, with nearly all jabs being administered at schools. The study attributes the success, in part, to trust in vaccines.
Then, COVID-19 hit Zimbabwe, and school closures slowed down vaccinations. While COVID-19's impact on prevention and treatment of cervical cancer hasn't yet been rigorously studied, "anecdotal reports point towards reduced utilization of services," according to a Pan African Medical Journal article published last year by the University of Zimbabwe Faculty of Medicine and Health Sciences' Grant Murewanhema.
Zimbabwe "needs catch up programs," says Bothwell Guzha, a gynecologic oncologist and member of the University of Zimbabwe's Faculty of Medicine and Health Sciences. As the country gradually returns to the normal school calendar, health authorities are looking to scale up HPV vaccination again. But they face a new challenge: creeping mistrust in vaccines caused by misinformation spread on social media.
Esther Sambiri, 16, a volunteer health communicator in the eastern district of Nyanga, has made it her mission to dispel such rumors. While her peers spend free time with hanging out with friends, she's going door to door talking about HPV vaccination.
"Misinformation about the HPV vaccine is becoming a big problem, people are linking it to the COVID-19 vaccine," says Sambiri. "People say they no longer trust the HPV vaccine, they suspect that health officials are lying that it is HPV when it actually is the COVID-19 vaccine."
Mistrust and hesitancy have meant just 22% of the population had received 2 doses of the COVID-19 vaccine by the end of 2021, far short of the government goal of 60%. That hesitancy is now spilling over to other vaccines such as the one for HPV, the volunteers say.
The consequences of not getting the HPV vaccine could be dire. +90% of cervical cancer cases are caused by HPV, according to the US Centers for Disease Control, almost all of which can be prevented by the HPV vaccine. 4.6 million women aged 15 years+ are at the risk of contracting cervical cancer, which kills nearly 2,000 women annually in Zimbabwe, according to the country's national cancer registry.
Surgical treatment can cost up to $6,000, says Guzha, an astronomical amount in a country where more than half of the 15 million population lives in extreme poverty.
That's why the Apostolic Women Empowerment Trust, an NGO in Zimbabwe, has sent more than 4,000 young volunteers like Sambiri across the country to encourage their peers and skeptical older people to get the HPV vaccine.
"Since the HPV vaccine is targeting girls before they become sexually active in order to prevent acquisition of a sexually transmitted infection, we realized that peer-to-peer education works more than generalized awareness," says Tendayi Gudo, AWET director.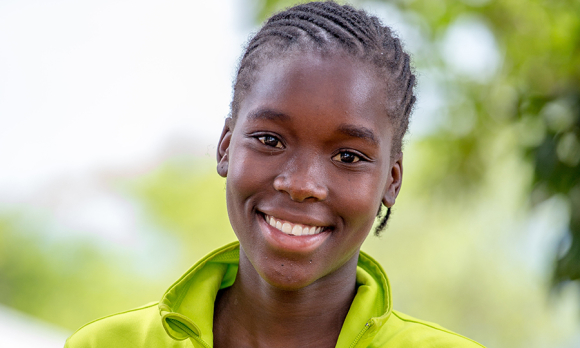 Palmer Dutiro, an AWET volunteer, has shifted his focus from the COVID-19 vaccine to spread awareness about the HPV vaccine. Volunteers like Dutiro and Sambiri advocate by word of mouth and hand out pamphlets.
"The main problem is convincing a parent who is already hesitant of COVID-19 vaccines to agree to the HPV vaccine. They fear for their children," says Dutiro, 24, who walks about 10 kilometers a day on awareness campaigns.
Some anti-vaccine people have become hostile and have disrupted public meetings, he says. "So now we prioritize door-to-door campaigns targeting families at their homes where they feel free to ask questions and are more receptive," he says.
Countering disinformation is a challenge. Some parents fear the HPV vaccine promotes sexual promiscuity or they associate it with the COVID-19 vaccine and myths such as Satanism. (Some religious leaders have said the jabs are a mark of those who worship Satan, hence a clandestine way of introducing Satanism in a largely Christian country like Zimbabwe.)
Others claim the HPV vaccine causes infertility. "[They think] the COVID-19 vaccine destroys the adults and the HPV vaccine the children," says Perseverance Chahora, a 24-year-old youth campaigner from Seke, a rural area on the outskirts of the capital, Harare. "They ask, 'why is the vaccine not made here in Africa?'"
"There is no shred of evidence to support the myths," says Guzha. "Studies have shown that girls who get vaccinated are more conscious of their health and actually their sexual debut is delayed compared to those who don't get vaccinated."
For youth advocates like Sambiri, campaigning for the HPV vaccine comes at a cost. "Most of my friends will be doing things they consider adolescent stuff, so they shut me out," she says. "Even when I am visiting for a very different reason, they think I am always on the vaccine mission."
The good news: Her circle is growing bigger with new friends drawn to her vaccine gospel.
"I miss my old friends. But at least the new ones I have share my passion," she says.
Farai Mutsaka is a Harare, Zimbabwe-based journalist.
Ed. Note: This article is part of the Global Health NOW's Local Reporting Initiative, which is generously supported by GHN readers.
Join the 50,000+ subscribers in 170+ countries who rely on Global Health NOW summaries and exclusive articles for the latest public health news. Sign up for our free weekday newsletter, and please share the link with friends and colleagues.