Stemming Tobacco Use Through Public Awareness
May 30, 2018
Between January 1 and today—World No Tobacco Day—tobacco use will have killed nearly 3 million people across the globe. About another 4 million will die before the year's end. Approximately 1.1 billion people around the world smoke, and 80% of them live in low- and middle-income countries.
These are troubling statistics, to say the least. But just as troubling is the number of people who are unaware of the health risks posed by tobacco use. Over the last several decades, tobacco companies have spent many tens of billions of dollars on duplicitous marketing tactics to turn more people into smokers and keep them addicted. Their deceptive strategies to advertise their lethal products in low- and middle-income countries, like sponsoring concerts and soccer games, are particularly effective in masking the dangers of tobacco.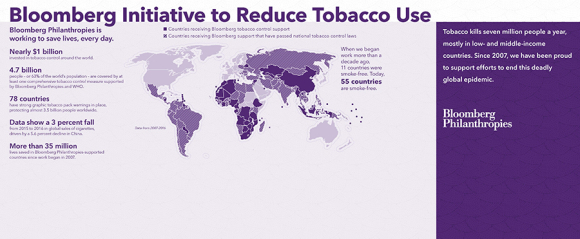 The scale of this global epidemic—and the misinformation fueling it—is daunting. But we know which tools work to fight it. Bloomberg Philanthropies has committed nearly $1 billion since 2007 to combat tobacco use worldwide through proven methods that combine policy change with public awareness: creating smokefree public places, banning tobacco advertising, increasing taxes on tobacco products, requiring graphic pack warnings and supporting hard-hitting mass media campaigns. These tactics are part of the MPOWER framework to fight tobacco use across the globe. MPOWER stands for:
M

onitor tobacco use and prevention policies

P

rotect people from tobacco smoke

O

ffer help to quit tobacco use

W

arn about the dangers of tobacco

E

nforce bans on tobacco advertising, promotion and sponsorship

R

aise taxes on tobacco
The tobacco industry has used advertising to deadly effect. But conversely, mass media campaigns warning of the dangers of tobacco have huge potential to change behavior and attitudes toward smoking on both an individual level and a broader societal scale—and there is data to prove it. For example, a study of one nationwide tobacco control campaign in India found that for every 6 cents spent, one person attempted to quit; for every $2.60 spent, one person quit permanently; and for every $9.20 spent, one death was averted.
Bloomberg Philanthropies partners with over 110 countries worldwide in our tobacco control work, and together we have implemented 255 mass media campaigns in 40 countries. Through one initiative, the Partnership for Healthy Cities, more than 50 cities have committed to saving lives by working to prevent noncommunicable diseases and injuries. 12 cities are implementing one of two high-impact interventions to reduce tobacco use (creating a smokefree city or banning tobacco advertising, promotion, and sponsorship), and utilizing communications campaigns for this work: 
Bengaluru, India discovered that, while its residents mostly understand the dangers of smoking, they were unaware of the dangers of secondhand smoke. It recently launched an advertising campaign to show the dangers of secondhand smoke through radio ads, billboards in high-traffic areas and social media.
Rio de Janeiro, Brazil is launching a powerful new anti-smoking communications campaign on trains and in other public areas, in addition to increasing enforcement of existing smoking regulations and inspecting bars and restaurants for compliance with rules defining smokefree areas.
Bandung, Indonesia is working to improve compliance with smokefree regulations. Part of this effort includes a graphic public service announcement showing how smoking can hurt one's health, timed to World No Tobacco Day. The campaign is based on research that shows that campaigns that confront the viewer with the specific negative impacts of smoking have a higher impact.
Today's smoking epidemic, fueled by the tobacco industry's advertising, is deeply rooted. But the public health community can fight back with advertising of our own—and awareness days like World No Tobacco Day are one of many important tools in curbing tobacco use worldwide.
Kelly Henning, MD, a medical doctor and epidemiologist, leads the public health program at Bloomberg Philanthropies.
Ed. Note: Michael R. Bloomberg is a benefactor of the Johns Hopkins Bloomberg School of Public Health, which publishes Global Health NOW
Join the tens of thousands of subscribers who rely on Global Health NOW summaries and exclusive articles for the latest public health news. Sign up for our free weekday enewsletter, and please share the link with friends and colleagues: Subscribe to GHN