The Hottest Ticket in DC
December 01, 2017
Riveting speakers. Great conversation. Networking. Historic venue. Food and drink.
Yes, it was Global Health NOW's inaugural live event, Adapt: The Climate Has Changed.
More than 100 GHN readers, new friends and Bloomberg School alumni gathered at the historic Decatur House near the White House last night for talking, noshing and listening to 2 experts discuss humanity's prospects for adapting to climate change.
Georges C. Benjamin, MD, executive director of the American Public Health Association, and Lisa Palmer, author of Hot, Hungry Planet, considered everything from climate change's role in sparking Syria's civil war, to the creativity of farmers, climate justice and practical steps individuals can take.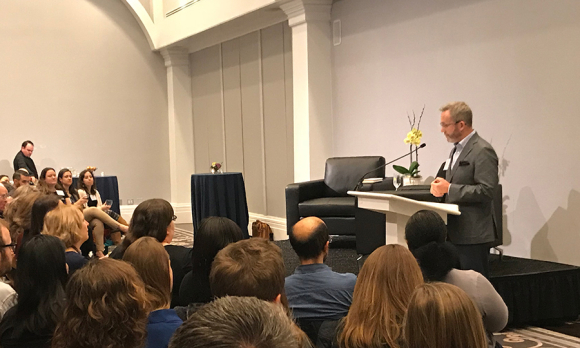 Some highlights:
Benjamin on why he prioritized climate change: "If 10% of this stuff actually happens this is probably the greatest threat to public health that we have."
Palmer on farmers: "A lot of my book focused on farmers. They are the great experimenters; they'll try everything. If it works, they'll stick with it."
Benjamin on framing the discussion: "This is not about polar bears. This is about us."
Palmer on our precarious existence: "As food systems, people's lives, [and] countries get disrupted, health is the number one thing that suffers. We're all about 3 meals away from feeling food insecure. Can you imagine living on 1 meal a day? I remember a family trying to figure out which 2 days a week they'd go without food."
Benjamin on what individuals should do now: "Bike more, drive less, buy energy-efficient lightbulbs, buy energy-efficient appliances. Reduce your carbon footprint as an individual. Read, understand what climate change is about [and] share with family members. Don't tolerate the loud, noisy minority. Do not buy the argument that energy efficiency is going to cost jobs. Dead people can't work."
Palmer on what people can do: "Limit meat intake. Buy less food and eat all of it. Food waste leads to methane on the trash heap."
Benjamin on prospects for the future: "Hopeful."
Palmer on prospects for the future: "Cautiously hopeful ... but as a journalist, I'm skeptical."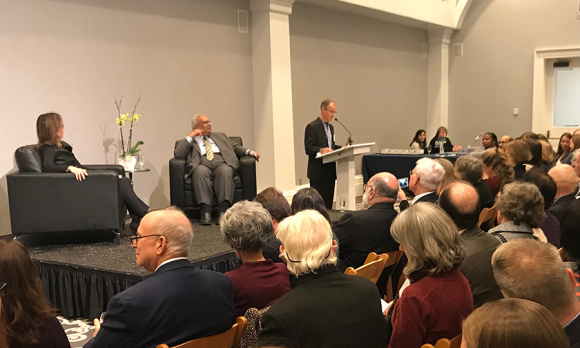 Couldn't make it to DC for the event? No worries. This was just the first of an upcoming series of events. Stay tuned for news of the next one in Spring 2018.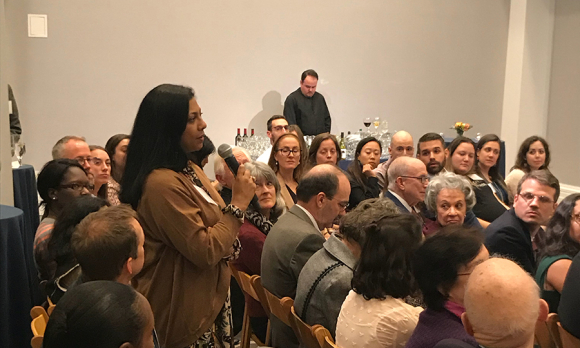 Join the tens of thousands of subscribers who rely on Global Health NOW summaries and exclusive articles for the latest public health news. Sign up for our free weekday enewsletter, and please share the link with friends and colleagues: http://www.globalhealthnow.org/subscribe.html