In Nigeria, Hospitals Are Unlawfully Detaining Newborns to Force Payment of Medical Bills
November 09, 2023
WARRI, Nigeria – Akpesiri Ojiko, 36, glanced down at her nine-month-old daughter, Dew, as she sat outside her home in Warri, a major city in Nigeria's Southern state of Delta. With Sheriff, Dew's twin brother, strapped firmly to her back, Ojiko ran her hands across Dew's scalp as she recalled her darkest days as a young mother of three. 
On a Friday in late November 2022, two days after giving birth to twins at the Central Hospital, a state-run facility that offered the most affordable care, Ojiko was ready to take her babies home. 
"I asked where the babies were and was taken to the top floor. When I got there, I saw just my boy," she recalled. Staff told Ojiko her daughter had been referred to Unique Health Medical Centre, a private clinic in the city, because the public hospital didn't have enough beds. Desperate to see her baby girl, she headed to the private clinic, only to be handed a bill for 433,500 naira ($545). 
Ojiko was stunned. 
Her husband abandoned the family when he saw the bill, and they ultimately separated. (While Nigerian federal law assigns certain financial responsibilities to fathers, there are rarely consequences when men fail to meet their responsibilities.) 
Supporting her family on about 25,000 naira ($31) per month selling Usi—an edible starch that is a local delicacy—Ojiko simply could not afford to pay. 
Her baby girl would spend the first seven weeks of her life detained in a private clinic because of the unpaid bill. 
Ojiko managed to raise 50,000 naira ($63) to help allay the cost, but the hospital refused to arrange a payment plan and refused to release the baby until the bill was paid in full. "It was one of the most tortuous times of my life," she says. "If we had the money, we wouldn't have even gone to the Central hospital at all. I became a beggar, literally asking families and relatives for money," she said in disbelief. 
When she visited Dew at the clinic, she often found her lying alone on a hospital bed. 
"Sometimes crying with no one to comfort her. At times when I go there to feed her or change her diapers, the doctor would ask me to leave, saying that if I don't have money to pay, he would end up taking the baby to an orphanage home. The whole situation made me feel less of a person." Unique Health Medical Centre did not respond to GHN's request for comment.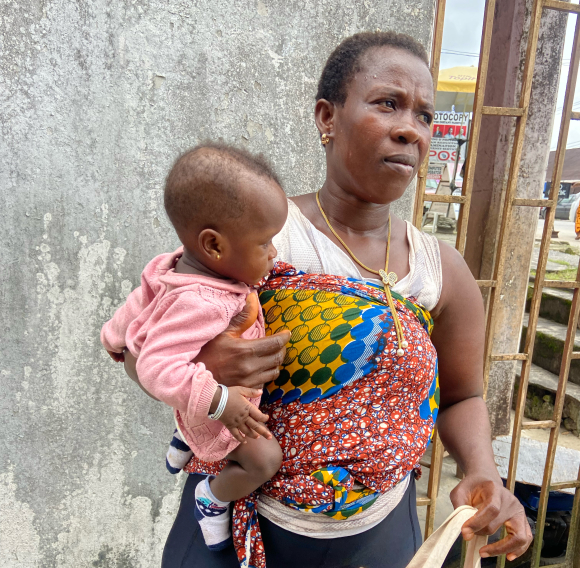 Imprisoning new mothers and babies for nonpayment of hospital bills is a violation of international human rights, says Sarah Bosha, a visiting professor of law at the O'Neill Institute for National and Global Health Law at Georgetown University.
"Their freedom of movement and their right to liberty is infringed upon," she says. 
Still, detentions remain surprisingly common in low-income countries where emergency health care isn't free or insured. Hospitals rarely document the illegal practice, making it hard to track, but one 2019 study found evidence of the practice in 46 countries, including Nigeria. The think tank Chatham House estimates that hundreds of thousands of people in parts of Africa and Asia may be affected every year by such detentions.
The impact on mothers and their babies is particularly dire in the crucial days and weeks after birth. The practice amounts to "cruel, inhuman, and degrading treatment, which causes extreme mental anguish for the new mother and separates her from the familial support systems she needs to recover postpartum," says Bosha, whose work focuses on advancing accountability and justice for violations of the right to health.
Separating a mother from her infant in the days and weeks after birth, studies show, not only interrupts bonding, it can undermine a mothers' sense of maternal competency. 
Bosha points out that many countries have ratified international agreements promising to protect women, but do little to stop such practices. "African countries must do more to protect the human rights of women in health care settings," she says. "As of June 2023, 44 out of 55 African countries have ratified the Maputo Protocol, which prohibits harmful practices that affect the dignity and health of women and obligates states to protect poor women or women from marginalized groups. While some survivors have been able to obtain justice through their courts, African countries need to pass legislation that prohibits detention for failure to pay hospital bills, especially for pre- and postnatal care," she adds.
Birth complications, such as cesarean sections or postpartum hemorrhage, lead to unexpected costs, putting women at greater risk of detention when they're at their most vulnerable. 
Nigerian women already face significant barriers accessing health care, putting them and their babies at greater risk of detention—or driving them to avoid seeking care for fear of the consequences. According to 2018–2019 data from the country's National Bureau of Statistics, 14.8% of those who decided not to seek medical treatment in a health facility cited financial reasons. 
Although there's no official data, "patient detention is an unfortunate practice that is on the rise" in both public and private hospitals as Nigeria contends with rising poverty, a rapidly growing population, and a long-neglected health care system, says Tanimola Akande, a professor of public health at the University of Ilorin in Kwara State, North Central Nigeria. 
Raymond Kuti, president of the Guild of Medical Directors, a group of physicians who own and run private hospitals and clinics across Nigeria, said that doctors are bound to attend to patients even without initial payment, but they receive little support to allay costs when patients can't pay for their services. 
"Unfortunately, many people see private hospitals as social service providers rather than a socially oriented business venture," says Kuti. "Private hospitals get no financial or even policy help from any strata of government and have become punching bags—taking hits from the government, with multiple taxations and regulations, and patients who are not ready to pay."
In May 2020, at the height of the COVID-19 pandemic, Blessing Abosede had her baby through a C-section at a public health facility. "I gave birth through surgery and was glad to have made it out alive," she says. Soon after the birth, Abosede became worried; her husband had not shown up and the hospital had presented the medical bill—totaling 150,000 naira ($188). Unable to pay, the 23 year old and her newborn were kept for 21 days in an untidy room with three other women at Wesley Guild Hospital in Ilesa, Southwest Nigeria—with no access to further treatment or services. Most of the time, Abosede and other detainees endured a foul smell oozing from the restroom. 
During her stay, she typically relied on her grandmother to bring her food, usually tasteless pap— a fermented cereal pudding—and a handful of Akara (a local term for bean cake). On a good day, she got a bowl of rice and beans.
"It's really traumatizing. Mama was the only one running around for money, in the middle of a pandemic, begging so we could pay off the balance. In fact, they stopped treatment and the only time they came around was simply to remind us that if we did not pay, they would not allow us to go," she said.
The Nigerian government has condemned hospitals for detaining indigent patients who are unable to pay their medical bills—but, with 70% of Nigerians paying out-of-pocket for health care, Akande says that the government needs to do more: "The way out is for the government to increase insurance coverage, particularly for the vulnerable groups. Budgetary provisions to improve access to quality health care need to improve significantly."
The government has pledged to do just that, expanding state-run health services to give more Nigerians access to affordable care, and signing into law last year a national policy that mandates health insurance for all Nigerians, and includes a fund to expand coverage to more than 83 million poor and vulnerable Nigerians who cannot afford health insurance premiums.
The insurance law, Akande said, is a laudable step, but the details are still being ironed out, and the program has a long way to go before it provides sufficient coverage for the poorest Nigerians. Detention of patients will only be prevented when the country covers at least 90% of its population under the national health insurance policy. "This requires a lot of political will and commitment on the part of the government," Akande said. "There are some efforts in this direction through the Basic Health Care Provision Fund [another national program aimed at expanding primary health services] but it is a far cry from the desirable level of financial protection from catastrophic health expenditures."
Until then, new mothers like Abosede, and their babies, are still at risk of being detained in hospitals. 
Abosede's son, Iyanu, is now three years old, and the memory of the detention still weighs heavy on her heart. Sitting in the small apartment where she lives with her grandmother, she drew her son closer, before placing him on her lap. 
"I do not wish that kind of pain on any mother," she stressed.
Abiodun Jamiu is a freelance journalist based in Sokoto, Northwest Nigeria, focused on social justice, conflict and humanitarian issues.
Ed. Note: This article is part of Global Health NOW's Local Reporting Initiative, made possible through the generous support of loyal GHN readers.
The idea for this story came from Beverly Anaele of Thomas Jefferson University, who won an honorable mention for nominating the issue of hospital detention in Nigeria in the Untold Global Health Stories of 2023 contest, co-sponsored by Global Health NOW and the Consortium of Universities for Global Health.
Join the 50,000+ subscribers in 170+ countries who rely on Global Health NOW summaries and exclusive articles for the latest public health news. Sign up for our free weekday newsletter, and share the link with friends and colleagues.