Extreme Weather Makes a Hard Job Harder for India's Health Workers
October 20, 2023
ARJUNWAD, India—Shubhangi Kamble begins her day by scanning her phone for overnight calls.
"Almost every night, I get several calls from the community members talking of their children falling sick," says Kamble, a resident of Arjunwad village in India's Maharashtra state.
She's been looking after the health of neonates and infants since 2017, but her work got more difficult when floods struck the area in 2019. As the floodwaters receded, many infants were diagnosed with diarrhea or pneumonia. She spent 10+ hours daily arranging medical care for children, calling for a government ambulance, contacting the doctors, and ensuring everything is taken care of by the time the infant reaches the hospital. She also checked every affected infant's medical history and alerted the doctor about it.
Kamble is an Accredited Social Health Activist—one of over a million community women health care workers. To bring down India's maternal and infant mortality rates and make public health care accessible, the ASHA program was instituted under India's National Rural Health Mission in 2005 with a goal for each to serve 1,000 people. Today, they have become the backbone of India's rural health care system.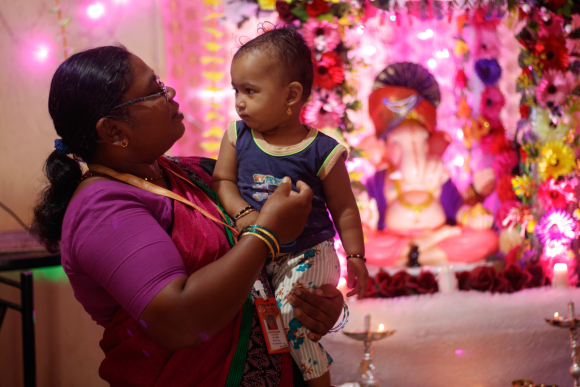 After the flood, Kamble thought her workload would ease. However, her troubles kept increasing as her village suffered another flood within a year, followed by heat waves, incessant rainfall, and hailstorms. All affected the health of children in her village. A 2021 PLOS One article found that for a child who lived in a district vulnerable to climate change in India, the odds of anemia rose by 63%, acute malnutrition by 42%, low weight by 45%, and stunting by 32%. 
As climate change accelerates, the result for ASHA's like Kamble is more health visits and work days that can extend to up to 12–15 hours. ASHAs are only expected to work two to three hours per day on four days a week.
For Kamble, the increased workload meant more work without adequate breaks and more stress, compromising her mental and physical health. "I was diagnosed with pneumonia and hospitalized for eight days in April 2022," recalls Kamble, adding she was later diagnosed with anemia.
When coping mechanisms fail in the rising heat

While visiting children in the scorching heat from April to June this year, during which the temperature peaked at 41 C (106 F), 46-year-old ASHA Kalpana Kamble (no relation to Shubhangi Kamble) from Maharashtra's Shirol region knew she wasn't well. Several infants and children in her community experienced dehydration, heat strokes, excessive sweating, and fatigue during this time. She took it upon herself to save them by taking them to the hospital quickly because many parents didn't know how to care for them. Every case she handled took a lot of time, further straining her. The workload in the past had caused her hypertension. "I still had to work in the heat waves because we have to submit the records to our seniors [managers] daily before the afternoon," she shares.
Between 2012 and 2021, heat waves killed 11,000+ people in India. Despite the extreme heat, managers expected ASHAs to keep up their visits and finish their work on time—or face dismissal, says longtime activist and ASHA Mandakini Kodak. She alleges that several ASHAs haven't even been paid, nor were given any protective gear for working in such scorching heat.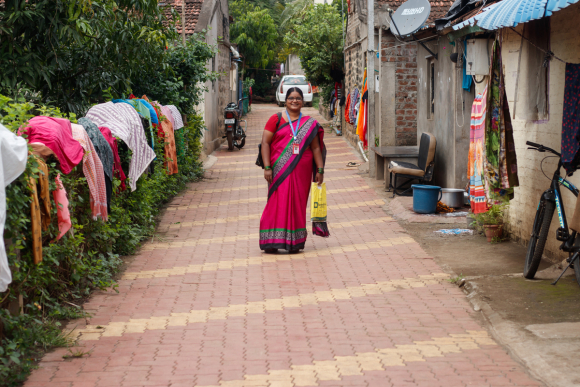 Amongst ASHAs who say extreme weather events are making it difficult for them to continue doing fieldwork is 36-year-old Smita Kamble. She experienced rapid heartbeat, increased appetite, and rising anxiety while doing a health survey in her community. She felt tired and weak all the time. The doctor concluded that less sleep, untimely eating habits, and stress led to her illness. "I leave home at 9 a.m., but there's no fixed time of returning," she says.
Netradipa Patil, a union leader who tracks the well-being of 3,000+ ASHAs, says she's seeing rising instances of learned helplessness, anxiety, stress, and trauma amongst ASHAs who worked during the floods, heat waves, and climate change disasters. Some are affected severely.
To correct this, Patil says ASHAs should be trained to look after their mental health. And post-disaster, the government should provide therapy to frontline ASHAs.
Climate change is delaying immunization, increasing caregivers' workload.
When floodwater entered Shubhangi Kamble's house in August 2019, it forced her to leave the village for two weeks. During that time and after, some children missed essential vaccines like the pentavalent vaccine (which protects against diphtheria, pertussis, tetanus, hepatitis B, and Hib) because they migrated to different villages. 
Many families lost their vaccination cards in the floods, making it difficult to track the vaccines their children received. "It took me over two months to find every child who missed their vaccine," she says. 
Already overworked with such logistical challenges, rising cases of fever, typhoid, cholera, pneumonia, and waterborne diseases made her job even more difficult. "The floods caused such tremendous losses that many families could not afford nutritious food," says Shubhangi Kamble. Many village children were underweight and feverish, so they weren't even given the vaccines on time—leaving them vulnerable to diseases.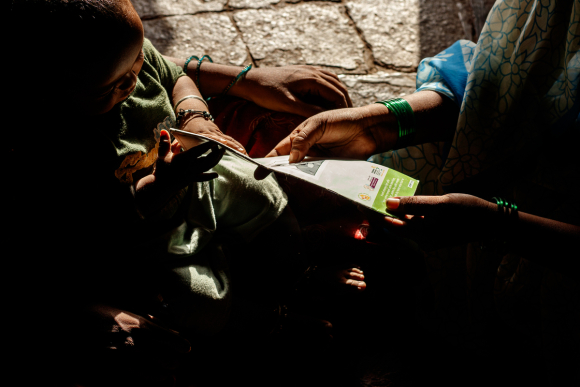 Weather events likely the result of climate change have been shown to affect immunization schedules in Africa, according to a 2021 PLOS medicine article. Drought led to lower odds of completion of the BCG (Bacillus Calmette-Guérin), DPT (diphtheria, tetanus, and pertussis) and polio vaccines in 22 sub-Saharan African countries. And WHO found in 2021 that 25 million children under 1 globally didn't receive the basic vaccines, the highest since 2009 (though the pandemic also wreaked havoc on vaccination efforts).
India has likely endured similar issues with vaccination, according to a 2019 Vaccine article, whose authors noted, "The proportion of children with delayed vaccination is high in India."
Fighting back by unionizing
When Patil, the activist, started getting calls from ASHAs about how the workload impacted them, she decided to unionize them. ASHAs don't have any support system, she says. "We had to make our own support network," says Patil.
Working conditions are so precarious that many senior officials speak rudely ASHAs, says Kodak, a union member. "One of them even told an ASHA struggling with her mental health that it was her problem, not that of the health department," she says.
The workload took such a toll on Kodak that she started suffering from Bell's Palsy, facial muscle weakness or paralysis. "I didn't get any help from my department or any public hospital. I spent my money, and it took over six months to recover," she recalls. Since 2019, she has also been suffering from diabetes and hypertension, which she attributes to the workload.
For their lifesaving work, ASHAs aren't paid a fixed salary because they are considered volunteers. They are paid incentives per task completed, but these payments are often delayed. ASHAs in Maharashtra used to get paid as little as $42 per month, which, after several nonviolent protests, increased to $60-$78, says Patil.
"Whenever the government rolls out new health care welfare schemes, they target ASHA workers to do all the field work and ensure its implementation. We are already overburdened with more than 70 tasks," says Kodak.
"Lack of access to transportation, inadequate support from other health care personnel, and delayed payment of incentives add to them often feeling overworked and underpaid," wrote authors of a according to a 2022 research paper in the Journal of Health Management.
In such challenging times, unionization has become the only hope for ASHAs they fight back collectively. However, it's still a long way to earn the recognition of full-time workers.
Meanwhile, the challenges for ASHAs keep rising with climate change. "First, we awaited rainfall. Now, every rainfall brings back the memories of floods," says Shubhangi Kamble. "Even if our house is drowned in the flood, we must be on duty."
Sanket Jain is a journalist, documentary photographer, and a Senior People's Archive of Rural India and Earth Journalism Network fellow based in Western India's Maharashtra state.

Ed. Note: This article is part of Global Health NOW's Local Reporting Initiative, made possible through the generous support of loyal GHN readers.
 
Join the 50,000+ subscribers in over 170 countries who rely on Global Health NOW summaries and exclusive articles for the latest public health news. Sign up for our free weekday newsletter, and please share the link with friends and colleagues.