'Forest Means Fear': Tiger Attacks in the Sundarbans
March 13, 2023
BAGERHAT, Bangladesh—Mohammad Buran Sheikh has been living a quiet life for 7 years now, running a tea shop with his wife Rexona in Chila Bazar village. But villagers occasionally drop by to ask Sheikh to tell them the story of the day a tiger attacked him when he went to catch fish in the world's largest mangrove forest—the Sundarbans.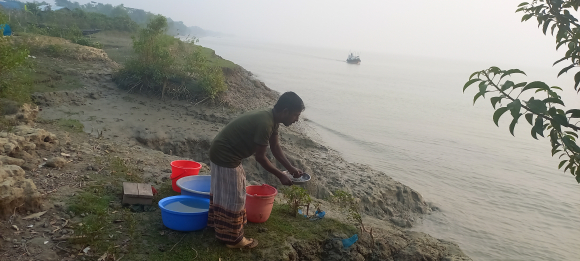 Mohammad dreads this. And so does Rexona.
The attack left his face scarred for years and his right arm disabled. As Rexona talks about the attack during a lunch of rice and cauliflower vegetable curry, Sheikh becomes tense and distances himself from the conversation. He eats his lunch, his gaze fixed on the plate. Rexona recalls how a fellow fisherman swam for over 2 hours to tell the family about the attack, while the other men stayed with Mohammad, wondering if he would live beyond a few minutes.
Rexona recounts how his nose was hanging after the attack and that his head needed 36 stitches during his two-week hospital stay. Years have passed, and the scars have faded. But the attack has left him physically limited and emotionally altered.
A Mental Health Crisis
Mohammad—like thousands of others—relied on the river-threaded forests of Sundarbans for his livelihood. About 60% of people in Mongla, a sub-district prone to repeated cyclones and floods, live below poverty line. They largely depend on agriculture, fishing, honey collection, and shrimp farming.
They also share the forest with at least 114 tigers, a fact that led the government to preserve more than half the area for conservation of tigers and other wildlife. The government ban on extracting forest resources in the area forced people to find other ways to earn a living.
Mohammad isn't the only person whose life has been forever altered by a tiger attack. Interviews with tiger attack survivors and the families of those who died in tiger attacks reveal the ripple effects of human-tiger interactions and the significant mental health toll they take. The human-tiger interactions are causing a mental health crisis among the local population, says tiger scientist M.A. Aziz, PhD, who teaches zoology at Jahangirnagar University and has been working for 3 decades in the Sundarbans, which is split across parts of India and Bangladesh.
Data collected between 2008 and 2022 by the nonprofit WildTeam shows that there were 275 tiger attacks on humans, 349 tigers attacks on livestock, and 143 cases of tigers attacked by humans. However, this data is not complete and has relied on media reports and the nonprofit team's research. Humans are typically attacked in the forests when tigers feel threatened. Human attacks on tigers typically happen when the big cats stray into villages, says Md Anwarul Islam, PhD, co-founder of WildTeam, which has worked extensively in the Sundarbans.
"The repercussions of a tiger attack are an important area of discussion if we want to mitigate human-tiger conflict," says Aziz. "When an earning member survives a tiger attack or dies due to the attack, there is a big burden on the other family members. They suffer financially, emotionally, and socially."
Before the attack, Rexona says, her husband was a mild person who chatted with neighbors. Now, he easily loses his temper with her and their 2 boys, and frequently becomes agitated if the past comes up. "He does not talk normally with people like he used to," she says. "Amar sote sote soye geche." ["I have become used to it now."]
After Mohammad washes his plate beside the Pashur River, he returns to the conversation mildly relaxed. "I do not talk about that time now. I feel pain when I think about it," he says. "I could not recognize my face when I returned home from the hospital."
Mohammad regrets that his story has almost become an entertainment for people in the area who would come to hear it over and over again.
Though Rexona had her husband treated for his physical injuries, they could not afford care for the emotional trauma. Funds in the household are lean because returning to the forest to earn for an income is no longer an option.
'Will I not Feel Terrified?'
Tiger attacks increased in 2021 and 2022 in India's Sundarbans because many people who had left the area were forced to return when the pandemic reduced economic opportunities in the cities, says Annu Jalais, author of Forest of Tigers: People, Politics and Environment in the Sundarbans.
"They needed to feed their families and in desperation turned to the forest and lost their lives," says Jalais. A pair of major cyclones—Amphan in 2020 and Yaas in 2021—coincided with the pandemic and caused severe mental health consequences for people in the Sundarbans, according to a 2020 American Ethnologist article that Jalais co-authored.
People in the area will likely have more interactions with tigers because climate change is leading to increased water salinity in the low-lying Sundarbans, which, in turn, is pushing tigers from the mangrove forests onto the mainland, according to a 2015 study.
For 34-year-old Moyna Devi in Mongla's Kolatola village, negotiating fear is an everyday chore. In the absence of any alternatives, she goes to the mangrove forests to catch fish to support her family of three. She used to frequently go fishing with her husband, Babul Hawladar. But Hawladar rarely returns to the forest after surviving a tiger attack 8 years ago. "I am not scared. But I cannot do any heavy work since the attack," Hawladar says with resignation.  
"Even if we fear the forest, we have to go to the forest for the sake of food," says Moyna. "Is there any other emotion apart from fear? Forest means fear … If you go to the forest to kill fish, you are seeing the footprints of tigers. But we have to do this to survive."
That absence of alternatives is one reason why people keep going to the forests to collect honey and catch fish and crabs. People living in the villages beside the Sundarbans have few alternative livelihoods, says Rehana Parvin, executive director of Shaplaful, a Bagerhat-based NGO. "People will continue to take risks unless they get adequate alternatives," Parvin says.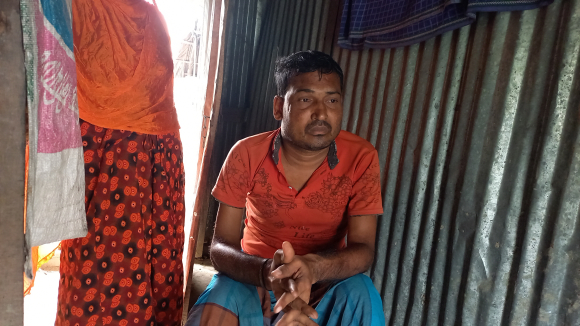 Babu Hawladar, 65, is still processing the agony of losing his eldest son to a tiger attack when the 12-year-old went fishing with his maternal uncle in the forest at least a decade ago. "Mone pore na?" he says, breaking down and wiping his eyes. "[Will I not remember him?]"
A neighbor sitting beside him wonders aloud if anyone can overcome the pain of losing a child.
Hawladar's wife often loses consciousness when she worries about the past and the stresses of household resources. The couple have a debt of 35,000 Bangladeshi taka ($328) that they've taken on just to meet their everyday household expenses. 
Hawladar's is not an isolated case of grief, stress, and thin hope for better days ahead.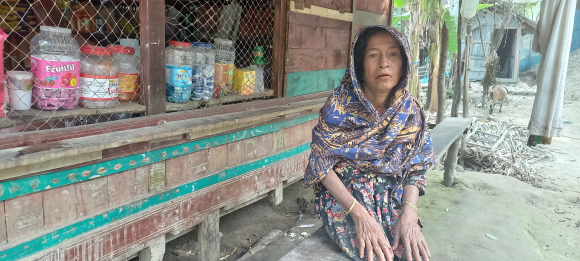 Twenty years ago, Riziya (who goes by 1 name) became a tiger widow after her husband went to collect honey in the forest. She suffers paralyzing fear every time her younger son goes to the forest now. 
"Atonko lage na? Mone mone toh kaadi, kadbo na?" she says. ["Will I not feel terrified? I can feel my heart crying."] With a small pension and proceeds from running a small tea shop, she barely survives. Her son, she adds, has no choice but to go to the forest.
While deadly tiger attacks are common in the Sundarbans, so is the killing of tigers when they that stray into villages.
An adult Bengal tiger can be up to 2.7 meters (9 feet ) long, weigh up to 225 kilograms (500 pounds), and can run up to 60 kilometers per hour (37 mph) for short distances. News reports show that at least 38 tigers have died in 20 years in Bangladesh—some of which were lynched when they ventured into villages.
A New Peace with Tigers
It's time to change the narrative, says WildTeam's Islam, so that human beings start looking at tigers as protectors and not killers. Islam's organization has been training locals how to release the tigers back into the forests and has included families of victims in the teams to set an example. 
"Instead of looking at human-wildlife conflict, we should start thinking about their co-existence," says Islam. "Tigers have been looked at as man-eaters, and locals will tell you how they have lost their fathers, husbands, sons to tiger attacks. So, when a tiger enters a village, it is unheard of for the tiger to go back to the forest alive."
But without the tigers, Islam says, people would go to the forests more often, depleting its resources. "We have been able to explain to people," he says, "that if there are no tigers, there would be no Sundarbans."
Ritwika Mitra is an independent journalist based in Delhi.
Reporting for this story was made possible by the Médecins Sans Frontières (MSF) Without Borders Media Fellowship. MSF, also known as Doctors Without Borders, works with journalists to encourage independent, impartial, and neutral reporting on health and humanitarian crises.
Join the 50,000+ subscribers in 170+ countries who rely on Global Health NOW summaries and exclusive articles for the latest public health news. Sign up for our free weekday newsletter, and please share the link with friends and colleagues