From Bullring to Hope: Helping the Homeless in Lima
August 24, 2022
LIMA, PERU—When the pandemic began, governments around the world told their people: "Stay home."
But that was only possible for those who had one.
In Peru's capital city, the charity La Beneficencia de Lima decided to help the homeless who had been left at the mercy of the virus and hunger.          
Initially, the charity's team thought they would set up a large dining room but then realized the people needed shelter as well, says Miguel Ríos, project coordinator.
The location they chose was the Plaza de Acho, a bullring that belongs to the charity. With the help of volunteers, they set up tents inside the bullring in just 4 days. On March 31, 2020, the Casa de Todos opened its doors to 120 indigent people, beginning a mission that would evolve over the next couple of years.
The homeless people were surprised to make their new home in the country's most famous bullring, a site once frequented by the country's elite.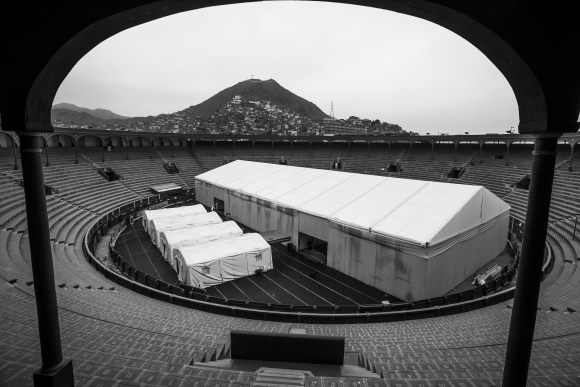 "In those years [1960s], the bullfighters came and the high class came [to the plaza]," said Victor Sono Neira, 68, an early resident of Casa de Todos who once worked the plaza as a pickpocket. "At that time, the pockets were big. And, since my hand was skinny, it all went in."
After a theft at the plaza, he was arrested and sent to prison. For him, as for other people on the street, going to live in a place like Plaza de Acho was quite an irony.
"It was something extremely elitist: the bulls, the bullfighters, the lineage… And suddenly, they became guests of this sumptuous space," says the journalist Carlos Fuller, who collects the testimony of Sono Neira and others in the book Everyone's House: Street Faces in Plaza de Acho.  
Some were happy to be there. Others had problems adjusting to sharing their living space with others. "There were people who had been living on the streets for 20 to 30 years and no longer had a family," says photographer Franz Krajnik, who took pictures of  the Casa de Todos  residents with Fuller. "Some stories had to do with drugs, alcohol or simply loneliness or illness."
All showed the ravages of broken health. In addition to skin infections and stomach problems, 70% had tuberculosis and 23 people were living with HIV.
At the shelter, they began to heal. But outside of Acho, not everyone was happy. Bullfighting organizations alleged that the Casa de Todos put cultural heritage at risk. They even denounced the then-mayor of Lima.
Fortunately, the solidarity in the community was greater. Ríos recalls the day when the food for the residents and the workers did not arrive at the plaza. People who lived nearby heard about it and brought them fried fish and rice.
"They were humble people, who kindly gave us what they could," says Ríos.
Casa de Todos remained at the Plaza de Acho until January 2021, when it relocated to its new location in Cercado de Lima district. 
The Casa de Todos has since become more than a refuge from COVID-19. The 56 older adults who used to live on the street now receive care but also help in reintegrating into society.
Although it receives logistical support from the Municipality of Lima, the shelter is financed by the charity, which is supported by donations and the rent from buildings it owns. This year, they plan to invest more than S/ 2 million ($500,000) in the shelter. Over time, they hope it will be self-sustaining by producing their own food and selling products in the community (from a planned bakery, for example). 
In 2 years, the Casa de Todos project has gone through various changes, but 1 goal remains: to give homeless people a new opportunity. 
"There is a lot to do here, and I can't stand still, I can't. Every day I get up between 2 and 3 in the morning to water the fruit trees," says Rubén Aguirre, 82, a resident who has become the main manager of the vegetable garden at Casa de Todos. "After breakfast, I come back here to the orchard because there is always something to prune."
With patience, he cares for the vegetables that will end up on his and his fellow residents' plates. He is excited about a new vegetable garden where he will be able to plant potatoes.
 Gardening and other activities are part of the new focus of Casa de Todos. Soon there will also be workshops that will produce handicrafts. Carlos Loyola, 74, is one of the most interested. Although now he participates in cleaning and gardening, what he really wants to do is carpentry or crafts.
"I'd like to learn how to make things that maybe we can later sell at a fair, to recoup a little the investment they have with us," he says. 
Loyola was a radio operator in the Navy, but he resigned after his parents passed away. He later was a taxi driver for almost 30 years. When his car broke down, Carlos was left with nothing. He went from the street to a shelter, then to the street and finally found his way to the Casa de Todos.
In its 2 stages, the project has welcomed 250 people. 33 have returned to their families. For those like Loyola, who do not have family to return to, the charity seeks to prepare them so that they can support themselves.
Everyone strives with that goal in mind—from the workers who care for the elderly, to public entities and companies that donate time and resources to improve residents' lives.
"That's why it's called the Casa de Todos, because it has the ability to unite everyone to contribute a grain of sand," says Ríos.
Lucero Masiel Ascarza Canales is a reporter at the news website Salud con lupa.
Ed. Note: This article is part of Global Health NOW's Local Reporting Initiative, made possible through the generous support of loyal GHN readers and a special collaboration with Salud con lupa.
Join the 50,000+ subscribers in over 170 countries who rely on Global Health NOW summaries and exclusive articles for the latest public health news. Sign up for our free weekday newsletter, and please share the link with friends and colleagues.