In Kashmir, Coronavirus Pushed Already-Broken Maternal Health over the Brink
June 14, 2022
ANANTNAG, KASHMIR—Zahoor Ahmed Bhat climbed a broken staircase to the dark attic of his house in NowporaSalia, a lonesome hamlet in south Kashmir. Rummaging through pieces of wood and hay, he pulled down an aluminum stretcher and a blue blanket where his wife, Shakeela Akhter, spent her last moments.
"I cannot forget her half-open eyes," Bhat, who is now 31, says. "I could do nothing to save her. She died in front of me," he says, running his fingers slowly on the stretcher.
Akhter, who was 28 when she died, had been experiencing a routine, complication-free pregnancy.
The morning of May 2, 2020—the day before she was due to give birth—Akhter and Bhat left their home for her regular antenatal check-up at Seer Hamdan, the subdistrict hospital a few kilometers away.
But nothing went according to plan.
Their home, in northernmost Himalayan territory of Indian-administered Kashmir—popularly romanticized as a heaven on earth—is also home to a decades-long, bloody conflict between India and Pakistan that has eroded institutions in the region, including the health care system. The rise of COVID-19 in 2020 not only flooded general medical facilities with patients—especially in rural areas, sending more patients to seek care in the city of Srinagar. It also overwhelmed the already-ailing maternal health system.
Additionally, many doctors didn't want to risk caring for pregnant women who might be COVID-19 positive. Pregnant mothers were afraid to take COVID tests, fearing that if they tested positive no doctor would see them. And doctors were not seeing patients from red zones (areas deemed high risk for the spread of the virus) at all.
At the hospital, Bhat was asked to fill out routine paperwork for Akhter's delivery admission, and labor appeared to be progressing normally into the night. At 4 a.m., Akhter was taken into the maternity ward. After 2 hours, hospital staff sent Bhat to buy a painkiller injection, soap, and some clothes for the baby from another department of the hospital, for 450 Indian rupees [around $6]. By the time Bhat returned, he heard Akhter's cries. "I begged the doctors to let me see her. But they pushed me outside the ward," he says.
He caught a glimpse of Akhter, foaming at her mouth and begging the doctors to save her life.
The scene of his wife biting her tongue and screaming in pain comes back to Bhat again and again. "Within minutes, I was dragged into the ambulance with Akhter," he says. The ambulance rushed to the Maternity and Child Care Hospital, Anantnag, where doctors declared her dead on arrival. Her death, Bhat says, was fast and unceremonious.
The authorities ordered the family to quickly take back Akhter's body for burial, Bhat says: "We were told that if we do not vacate the place, they will declare her COVID-positive and seal the entire village for weeks as a red zone."
By the time the pandemic hit Kashmir, the health sector had already been worn down by decades of political instability. The Indian parliament's revocation of Article 370 in the Indian constitution in August 2019, which ended the semi-autonomous status of Jammu and Kashmir, and heralded months of curfew, further deepened the crisis. Mass arrests and the longest internet shut down by a democratic state followed.
Restrictions on public movement and blockade of the Internet lasted for months, disrupting everyday life. There was a shortage of critical medical supplies and transportation of patients to hospitals became greatly strained.  After Akhter's death, her family, for example, was not even provided an ambulance—forced instead to carry, on foot, Akhter's body on a stretcher back to their village.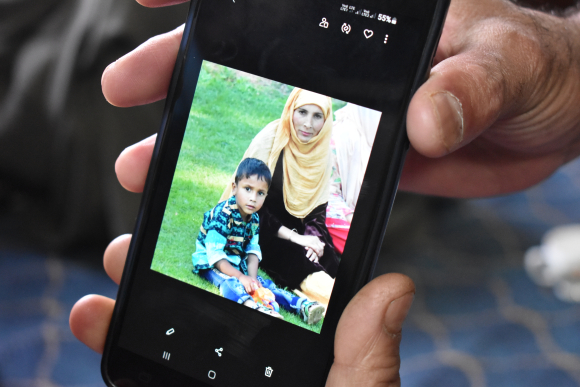 Coronavirus restrictions have added to Kashmir's miseries and deeply affected the health care system. Health care workers trying to get to work endured harassment and violence at the hands of Indian police, who accused them of violating COVID-19 restrictions despite their passes. The Indian government reports more than 454,314 confirmed COVID-19 cases as of June 10, 2022, plus 4,752 deaths among Jammu and Kashmir's population of more than 12.5 million, according to the Ministry of Health and Family Welfare.
After the news of Akhter's death broke out, people from her village gathered outside the hospital, protesting the treatment delays she endured and calling for accountability. An inquiry was ordered, and the medical officer and nurse on duty were suspended.
But for Bhat, none of this translated into answers.
"I have no idea what happened within those 2 hours inside the ward," Bhat says. "If the staff were not at any fault, why did they hide and force us to leave the hospital and steal all our documents?"
The family's questions remain unanswered. They still don't comprehend why, if she suffered any complications, hospital staff delayed referring her to a better hospital.
"We appeared twice in the district court for the case hearing. But the health department didn't turn up," says Bhat. "The suspended staff are back at their jobs again and there is no progress in the case."
Aliya Bashir is a freelance journalist based in New Delhi and Kashmir.
Ed. Note: This article and Part 2, In Kashmir, Pregnant Women Were Denied Care over COVID-19 Fears, are part of Global Health NOW's Local Reporting Initiative, made possible through the generous support of loyal GHN readers. Look for Part 2 later this week.
Join the 50,000+ subscribers in over 170 countries who rely on Global Health NOW summaries and exclusive articles for the latest public health news. Sign up for our free weekday newsletter, and please share the link with friends and colleagues.