As Population Climbs, Hygiene Suffers in Slums
March 23, 2022
NAIROBI, Kenya—On a hot March afternoon in Laini Saba, a village within Kibera—the largest urban slum in Africa—Mary Ndira sits with her son on a concrete stone outside their house. Right next to her is a raw sewage drain that runs through her doorstep.
Ndira's 18-month-old son, Cosmas, looks weak and tired. He is suffering from dysentery, a disease he has battled several times already in his life, according to the 30-year-old mother of 2.
Ndira lives with her family in Kibera slums, a 2 square-kilometer shantytown that's home to 250,000+ people. It is mostly made up of mud walled and corrugated metal houses closely knitted together. From above, the slum looks brown because of the rusted sheet-metal roofs.
Ndira has called Kibera home since 2010, when she moved from the village to live with her brother. When she got married in 2015, she moved to Laini Saba from Laini Nane, another Kibera village.
Her father is a casual worker in the city; her mother is a farmer back home in Machakos County, a dry area that has been affected by climate change. "My mother used to practice farming on a larger scale but since 2018, rain patterns have been uncertain, and no one can predict anymore when it will rain. Right now, she only farms for family consumption," she says.
Climate change's effects have reduced agricultural production, sapping a livelihood that most families in Kenya depend on. When crops fail, people move to urban areas in search of job opportunities. They often end up in slums because they cannot afford life in middle and upper class neighborhoods. A World Bank report estimates that by 2050, up to 38.5 million people within the Lake Victoria Basin countries of Kenya, Tanzania, Uganda, Rwanda, and Burundi could be compelled to move due to climate factors.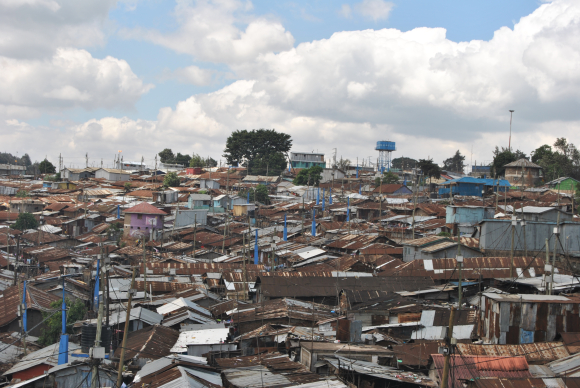 The percentage of Kenyans living in urban areas population rose from 23.6% to 28%, between 2010 and 2020, according to World Bank data. As Kenya's population is expected to double by 2045, half of the country's population will be living in urban areas by 2033. Some 250,000 people move into Kenya's cities every year, the World Bank estimates.
As they do this, they strain the already scarce social and economic services.
Kibera, like other slums, lacks basic infrastructure including water, sanitation, and hygiene services, housing, employment, and access to food and nutrition, says Martin Muchangi, the program director for Water, Sanitation and Hygiene, Neglected Tropical Diseases and Public Health Emergencies at Amref Health Africa in Kenya.
The resulting communicable and noncommunicable diseases afflict populations in slum areas, says Muchangi. "The reality is you find that diseases such as diarrhea, dysentery and typhoid are more predominant in that area as opposed to other suburbs which are more developed and have social infrastructure; where people are employed, earning well and are able to eat properly," he says.
According to data provided by a community health worker within Kibera's Laini Saba village, 154 out of the 896 children under 5 living in the village were diagnosed with diarrhea, while 5 had dysentery.
Included in that statistic is Ndira's son, Cosmas. She suspects his illnesses were caused by the water they drink.
"We just drink water from the taps provided by the county government, but you see, sometimes the pipes leak. And because these pipes pass through sewer lines, they might mix with the raw sewage and then infect us," Ndira says.
Even though the government has tried to provide water for slum residents in Nairobi, it has not been able to meet everyone's needs. Population growth and water scarcity continue to exacerbate the water, sanitation and hygiene (WASH) gaps.
Nationwide, 15% of Kenya's 53 million people use unimproved water sources, such as rivers and shallow wells, and 41% do not have basic sanitation solutions, according to the charity Water.org. The percentages are higher in rural areas and urban slums, where water infrastructure isn't available.
Repha Kuntai, a community health volunteer working in Kibera, says more needs to be done. "We know how these people are suffering drinking unsafe water. The county government should work closely with us to provide water treatment chemicals to the households, and also provide chlorine chemicals at water points especially the water storage tanks," she says.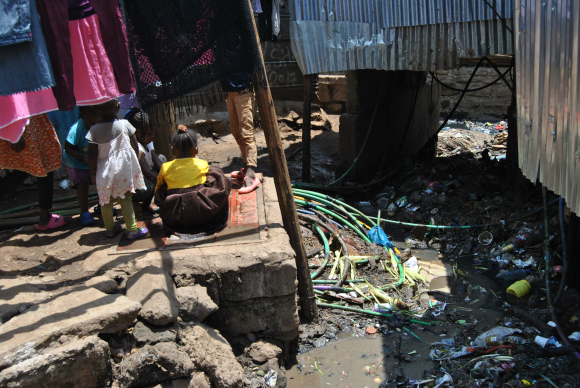 Increasing WASH services in Kibera is challenge because the population is growing daily, says Stephen Ochieng, Kibera Health Centre's public health officer.
"If you want to know that the population in Kibera is growing, just look at how people come into the slums in the evening," Ochieng says. "You will think that it's a political rally. And apart from those born within the slum, most of them are moving in from the rural areas."
Ochieng says, however, that his Centre is working with the County Government to ensure that better drains than the ones at Ndira's doorstep are built, and to ensure that every house gets water treatment chemicals.
Ndira says that even though her family hasn't benefited, there is a new road under construction in their neighborhood, so she hopes a drainage system will be built along with it.   
"All these are efforts to better the health standards of the people of Kibera," says Ochieng, "even though the population here is stretching our efforts." 
Dominic Kirui is a freelance journalist based in Nairobi, Kenya. He writes on gender, climate change, access to clean water, food security, culture, conflict, politics, and global development. See his portfolio here https://muckrack.com/dominic-kirui  and Twitter:  @Domie_Kirui.
Ed. Note: This article is part of Global Health NOW's Local Reporting Initiative, made possible through the generous support of loyal GHN readers.
Join the 50,000+ subscribers in over 170 countries who rely on Global Health NOW summaries and exclusive articles for the latest public health news. Sign up for our free weekday newsletter, and please share the link with friends and colleagues.