In Liberia, Resources are Scarce—but Contact Tracing Is Second Nature
June 10, 2020
­­­­Archie C. Gbessay is hard to get on the phone.
When I caught him over a patchy Facebook call in early April, he was rushing through the streets of West Point—Monrovia's largest slum—checking on hand-washing stations.
"The Ebola buckets are back out," he told me, referring to the spouted plastic containers of bleach solution that were ubiquitous during West Africa's 2014-2016 outbreak. "We have one on about every block. I would like to see one in every household," he said. At the time Liberia had recorded about a dozen COVID-19 cases.
In the 2 months since that number has risen to a relatively modest 383, but predictions about COVID-19's trajectory in African countries have ranged from the apocalyptic "ticking time bomb" to a slower burn with fewer deaths than Europe and the US.
If Ebola taught Gbessay anything, it's that communities help determine which way the pendulum swings.
West Point, a Monrovia, Liberia community of 75,000+ people, is built on the unstable foundations of a slowly eroding peninsula. It offers no running water and just 6 public toilets. The neighborhood quickly became an epicenter of West Africa's 2014 Ebola outbreak, known around the world as a place where bodies piled up in the streets as the disease whipped through the neighborhood. It's also Gbessay's home—and as a coordinator of the Active Case Finders and Awareness Team, he was not yet 30 when he joined the front lines of a grassroots effort that helped West Point—despite its glaring poverty—declare the end of Ebola months before the rest of the country.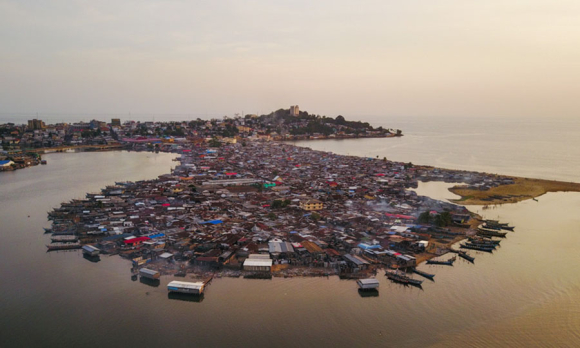 Now 33, he and other leaders of the Community Based Initiative, a national network that grew out of the Ebola response, have redeployed to fight COVID-19, from training contact tracers to setting up hand-washing stations and lobbying businesses to unite under a no-mask, no-service policy.
In an outbreak that has sent Liberia's biggest donor, the US, scrambling to test and secure basic medical supplies for its own people, there is no question of the enormity of the challenge for Liberia—one of the poorest countries on Earth. But, as the inaugural Global Health Security Index warned back in October, no country, no matter how wealthy, was adequately prepared for a pandemic.  
Liberia, at least, had a leg up on the low-tech pillars of outbreak response. Ebola made sanitation, messaging, and contact tracing familiar work for communities in Liberia; better-resourced countries are now grappling with these concepts on a mass scale for the first time in living memory.
In mid-March, within days of confirming its first COVID-19 case, Liberia sealed its borders with neighboring countries. On April 8, with 14 cases confirmed, the country declared a state of emergency. For weeks, a strict 3 p.m. curfew was enforced by checkpoints.  Monrovia's poshest hotel took temperatures at the door. Ubiquitous "keke" rickshaws limited passengers to 2 instead of 3. Grocery store security guards—known for their exacting parking instructions—instead presided over hand-washing stations at store entrances. Health officials—in coordination with private sector partners like the Healthcare Federation of Liberia—released online training modules tailored to Liberian health workers. And just months before COVID-19 emerged, a badly needed new oxygen plant opened in Monrovia.
"It's not how it was with Ebola, when everybody was caught pants down," says Tolbert Nyenswah, MPH, who led the country's Ebola response and was the first director-general of the Public Health Institute of Liberia.
As he country-hopped across Africa back in December, Nyenswah recalls having his temperature checked at airports from Abidjan, to Accra, to Addis Ababa and Nairobi—not when he returned to the US, where he now lives.
"Systems were put in place before COVID-19. So it puts Africa a little bit ahead of the curve," says Nyenswah, now a senior research associate at the Johns Hopkins Bloomberg School of Public Health.
After Ebola, Liberia joined over a dozen African nations in establishing a national public health institute—bolstering integrated disease surveillance systems for Ebola and other diseases like Lassa fever, monkeypox, and yellow fever.
But this was no panacea. Ebola left Liberia better-prepared for small-scale outbreaks—"but not a worst-case scenario," says Nyenswah. According to one model, that could mean 300,000–3.3 million COVID-19 deaths across Africa.
For now in Liberia, "We still have empty beds in 14th Military Hospital"—the main treatment unit in Monrovia, says Sanford Wesseh, Liberia's national lead for contact tracing for both Ebola and COVID-19. "But we are not out of the woods."
But as Liberia begins to lift restrictions—the 3pm curfew was extended to 9pm and the expired state of emergency will not be renewed—concerns remain that Liberia could go the way of Brazil or Mexico: new hotspots that were spared the worst early in the outbreak.
"Logistically we are still nowhere," Gbessay says. The country of almost 5 million went into this outbreak with just a handful of ventilators and 1 COVID-19 testing lab. "What we do have is the willingness of people in our communities to get involved in coordinating a rapid response with the limited resources available," he said.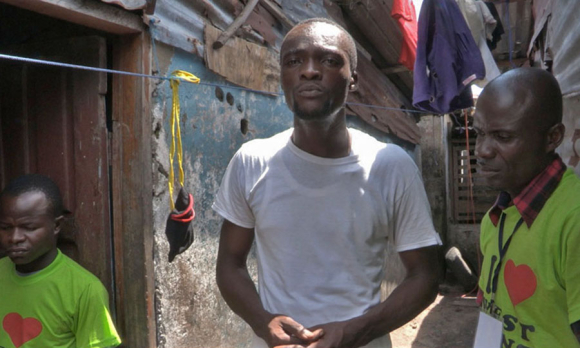 As the US slowly builds an "army of contact tracers" who typically work from the safe distance of phone call, Liberia has already recruited about 1,000 contact tracers who are paid $150 per month; many are university students, or high school graduates with close ties to their community. And while there are clear advantages to technology, going door-to-door and observing potential cases—at a 6-foot distance—is the most reliable way to verify information, Wesseh says.   
Gbessay has already begun the process known as "active case finding" by foot through West Point—where knowing a phone number, zip code, exact address, or online presence can be a luxury. It's a crucial link in Liberia's contact tracing chain.
In addition to messaging and sanitation efforts, Gbessay's current priority is tracking down "lost contacts"—people who were tested but gave minimal information, maybe "just a name and a section of West Point, no telephone number, no nothing."
"Maybe in my area I have heard his name—so I go and check on him," Gbessay explains. "Our responsibility is to identify the contact and link them to the county [contact tracing] team to ensure they are transferred to the treatment unit."
Things don't always go according to plan. As with Ebola, some believe COVID-19 is a hoax, or that the virus is a government ploy to solicit international funds or control the population.
In recent weeks Gbessay has seen worrying signs. "There are people who have tested positive but decided to run … they switched off their phone and changed location," fearing they'd be transferred to treatment units they associated "with death."
While Gbessay is not a formally trained health worker, he says, people in West Point know him. "So I deliver the message personally. That COVID-19 is real, that it is deadly."
There's no underestimating the importance of that, Nyenswah says. "If the community is not on your side you cannot do any public health intervention."
That became abundantly clear during a botched Ebola lockdown in West Point. After residents ransacked a patient holding center that was set up in the packed neighborhood, West Point was fenced off from the rest of the city with barricades, barbed wire, and troops patrolling all sides. Violence erupted and security forces opened fire, killing a 15-year-old boy.
Then-President Ellen Johnson Sirleaf conceded that quarantines without community consent were a mistake, and led to violence. In a recent Zoom webinar, Sirleaf shared that wisdom with countries now facing COVID-19: "One of the things we had to do was just to admit we were wrong,"—and put communities in charge. That humility should be a lesson to leaders now addressing COVID-19, Nyenswah says.
But that incident also came to define West Point's containment strategy for Ebola—and now COVID-19, Gbessay explains.
West Point community leaders pledged to track down those who'd vandalized the facility—and in the process, discovered the devastating reality that some residents had been hiding from authorities. "While we were looking for the people who went into the facility, we found other sick people … We uncovered secret burials. We tracked the number of people dying, and that raised the alarm," he recalls.
When it became clear that messaging was not reaching everyone, they rebranded.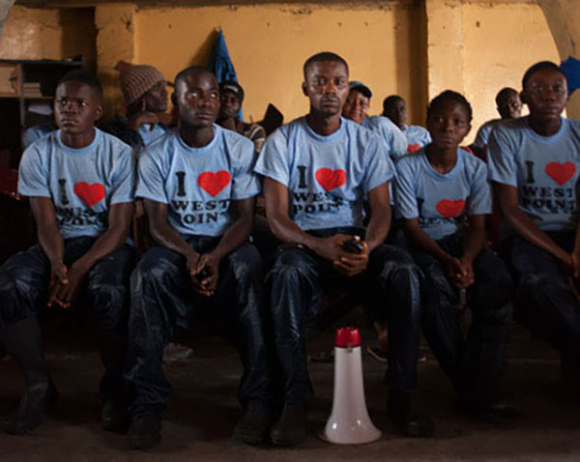 "When we first started we had this MoH (Ministry of Health) branding. People saw us as government agents—so they weren't talking to us." They started wearing t-shirts with a more welcoming message: "I Heart West Point," color-coded for each of the neighborhood's 7 zones.
After that, "We saw a serious change. It showed solidarity with the community."
There were more substantive advantages, too. As the West Africa Ebola crisis dominated international headlines, an influx of international aid bolstered response efforts.
The US funded more than half of the $3.6 billion Ebola relief donated by governments—and deployed the US army to the front lines. Weekly charter flights ensured a steady supply of outbreak-fighting essentials, distributed across the country by helicopter—a luxury made possible by the US Army's presence. Mobile testing labs and logistics bases were peppered throughout the country. Continued support from the USCDC has left Liberia's emergency response capacity "10 times stronger than pre-Ebola," but much of the aid and infrastructure that helped the country beat Ebola hasn't been sustained. "That's a huge issue" in the face of COVID-19," he says. Help has begun to arrive in the form of grants, debt relief, and supplies—but it's a "drop in the ocean" compared to what's needed to shore up the country's health system.
Still, the basic pillars of community infection control remain paramount. "People going from village to village, town to town… that's how we get to zero," he says.
For his part, Gbessay sees signs that his community's approach is working. When we caught up recently, he was relieved to report that just a few cases had been confirmed in West Point. But there's a sense that this is still the beginning. Even with restrictions loosening, members of the CBI were still escalating their efforts in a flurry of WhatsApp messages: With worship centers reopening at 25% capacity, how could they help enforce social distancing? Could they recruit neighborhood tailors to sew lower-cost face masks? Could they convince an array of professional groups—from motorcycle taxi drivers to shopkeepers—to embrace masks?
His efforts is not purely altruistic. "I can't save lives if I'm dead," he says. "So I try to keep myself safe."
For the latest, most reliable COVID-19 insights from some of the world's most respected global health experts, see Global Health NOW's COVID-19 Expert Reality Check.
Join the tens of thousands of subscribers who rely on Global Health NOW summaries and exclusive articles for the latest public health news. Sign up for our free weekday newsletter, and please share the link with friends and colleagues: https://www.globalhealthnow.org/subscribe