The 2019 World Health Assembly: What Happened at #WHA72
May 19, 2019
The World Health Assembly—WHO's supreme decision-making, policy-setting gabfest—is underway, and GHN is on the ground in Geneva. Follow the latest important (and not-so-important but fun) news from at #WHA72 here.
Tuesday, May 28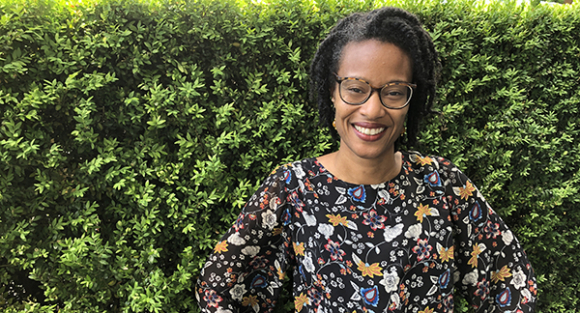 A View Inside the Whirlwind: Loyce Pace on #WHA72
Each May, the World Health Assembly brings a whirlwind of global health debate and discussion to the UN's Palais des Nations in Geneva.
 
Loyce Pace, president and executive director of the Global Health Council, was there again this year to advocate for the organization's priorities for health. In this Q&A, which occurred on May 22, Pace surveys #WHA72's main topics, the US role and the value of the annual event. Highlights:
On this year's vibe: "It feels good. Some people are saying it doesn't feel as hectic as it has in the past. And I wonder if that's a reflection of other meetings happening around the same time."
On Secretary (of Health and Human Services) Alex Azar's defense of vaccines: "I think it was incredibly important to hear that… . Look, we appreciate the leaders in the administration … leaning on that evidence-based and data-driven approaches to global health."
On a GHC brainstorm meeting on universal health coverage: "We do try to take the stuffiness out of it and kind of bring the NGO-ness to Geneva and the halls of the Palais." 
Friday, May 24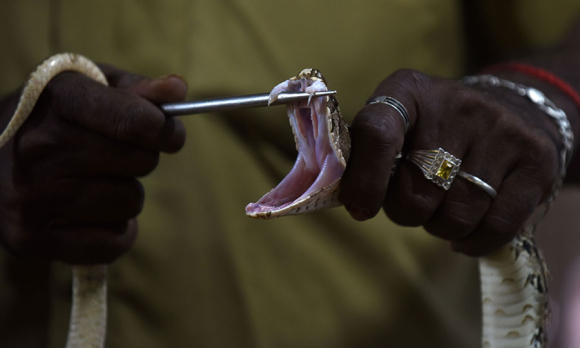 Time to Act: WHO's New Snakebite Strategy
Start the clock. After 24 hours, some 7,400 people will have been bitten by snakes, and 220 to 380 of them will die. 
That means up to 138,000 deaths every year. And 400,000 serious injuries such as amputations. But those are just estimates.
Long recognized as a threat to health yet under-prioritized for just as long, snakebite envenoming has surged in prominence after a resolution at last year's World Health Assembly and $100 million in new funding from the Wellcome Trust announced this month.
And yesterday, the WHO officially launched its new strategy, which seeks to halve snakebite deaths and morbidity by 2030. At the World Health Assembly event, ambassadors, ministers of health and experts from within and outside the WHO shared in genuinely giddy excitement. 
The power of global cooperation will be needed to resolve some major knowledge gaps, said Soumya Swaminathan, WHO's newly named chief scientist.
Research is urgently needed to quantify the burden of snakebite and the number of deaths and to understand issues with antivenom, whose quantity and quality have decreased in recent years, she said.
"We have a lot of work ahead of us," Swaminathan said. 
Thursday, May 23
Polio: Waiting for the Final Blow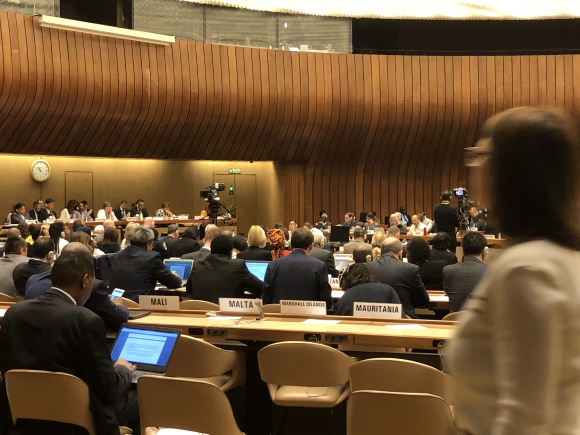 Dozens of member states pledged continued support for the global effort to eradicate polio during a World Health Assembly committee meeting on Thursday morning.
But one mattered more than most: Pakistan. 
Despite 3 decades of effort, 26 cases of wild poliovirus have been documented so far this year: all in Afghanistan and Pakistan. (And, outbreaks of vaccine-derived cases of poliovirus were reported last year in 7 countries.) 
Pakistan's representative assured fellow delegates that his government is fully committed to its polio elimination program—despite the recent suspension of a campaign to immunize more than 40 million children under 5. The campaign paused after murders of 2 police officers protecting polio immunization teams late last month, according to The Guardian.
Pakistan is reviewing its vaccination program before delivering what it hopes is "a final blow before the next slow season," he said.
Committee members later moved on to the next topic of discussion: The plan for a post-polio world.
A New Plan for Mental Illness, the Silent Killer
They came with stories.
The Ghanaian man whose family put his foot through a hole in a log and secured it there with nails because he suffered from a psychosis. He stayed attached to the log for 2 years. 
And Saima Hossain, a mental health advocate from Bangladesh, spoke of her own traumas during a #WHA72 technical briefing on mental health on Wednesday.
Hossain lost 19 members of her family in a brutal government coup and grew up with a traumatized father who suffered from schizophrenia. "I saw violence and maladaptive behaviors of all kinds," said Hossain. "And I survived." 
The briefing's speakers also brought data: Nearly 1 billion people are affected by mental health issues.
To address the issues, WHO has launched a special initiative on mental health seeking to raise $60 million to bring quality affordable care to 100 million more people in 12 priority countries by 2023.
"It's a silent killer," WHO Director-General Tedros Adhanom Ghebreyesus said, "Today, we say it is time to scale up, to fight the silent killer more aggressively." 
Health on the Move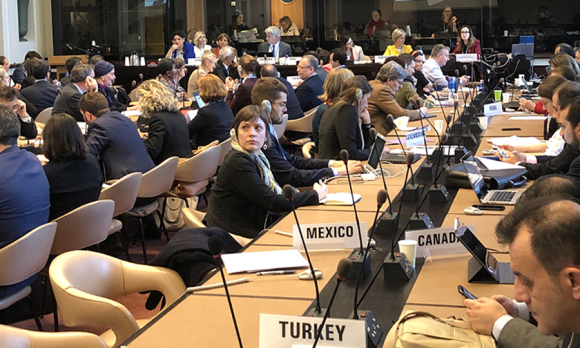 With more than 68.5 million people forcibly displaced from their homes and 258 million international migrants, there's an obvious question: How can their health be ensured?
Health ministers, WHO officials, migration experts and others weighed in on solutions at a Tuesday #WHA72 side event. Their common theme: There's no universal health coverage unless the health of refugees, migrants and internally displaced people have access to quality care. (UHC is the theme of this year's World Health Assembly, running this week and into next week in Geneva.)
"Not addressing migrant health is a recipe for disaster," said Jacqueline Weekers, director of the Migration Health division of the International Organization for Migration. "Migrants face stigma and discrimination. Many migrants are working and living in conditions of exploitation." 
Speakers explored issues of technology (how social media usage in Turkey helped uncover surprising migratory patterns) and financing (whether a new funding mechanism modeled on the Global Fund might pay for migrant health in lower and middle income countries).
Wednesday, May 22
#WHA72 Booster Shot for Vaccines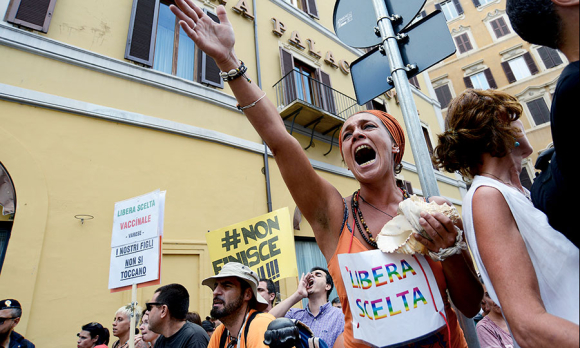 It wasn't so much the message as the messenger.
"Vaccines are some of the most thoroughly tested medical products we have. Vaccines are safe, effective, and lifesaving."
No one in Salle XXIII at Tuesday afternoon's World Health Assembly was expecting anything different, but relief permeated the room as Alex Azar, US Secretary of Health and Human Services, delivered the full-throated endorsement of vaccines.
The US, under President Trump, was unequivocally backing vaccines on the world stage.
As measles cases recently topped 700 in the US, it was only in late April that Trump publicly encouraged vaccination after meeting with prominent vaccine skeptics during his 2016 campaign and tweeting the autism-vaccine myth in 2014. 
Other highlights:
Peter Hotez, dean of the National School of Tropical Medicine at Baylor College of Medicine in Houston, urged the global public health community to ceaselessly fight for vaccines, noting that there are "at least 480 misinformation websites all amplified on social media and dozens of fake books."
And Theresa Tam, Canada's chief public health officer, said she is working with Twitter and Facebook to either remove disproven information or surface science-based information on their channels.
"This is not freedom of speech. This is wrong information that is killing people," said Gavi CEO Seth Berkley.

 
Tuesday, May 21
Bullets and Ebola: The Latest Update from DRC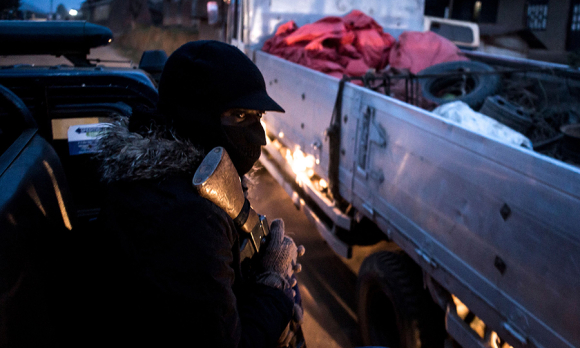 Ebola is a dragon with multiple heads—starting in one place and then popping up in others, Oly Ilunga Kalenga, the Democratic Republic of the Congo's minister of health, told a packed committee room at a #WHA72 meeting this morning.
And all around the dragon: violence. There have been more than 100 attacks on health facilities resulting in 4 deaths and dozens of injuries, hampering the DRC and international response. 
Nearly 1,900 cases have been recorded so far with more than 1,000 deaths.
"This outbreak is still going on, not because we don't have the tools or skills we need," said WHO Director-General Tedros Adhanom Ghebreyesus. "It is still going on because we don't have the sustained access to communities that we need to finish the job." 
Kalenga candidly discussed shortcomings in the response including a fragmented, siloed effort that has led to communities being contacted by different organizations with different messages.
He also pushed back on the emerging narrative that violence has arisen because the responders are failing at community engagement, saying they are 2 different issues. Kalenga emphasized the need to work through traditional chiefs and other social leaders.
The Future of Pharma Transparency is Cloudy
A standing room-only crowd at a #WHA72 side event yesterday heard from multiple country representatives speaking out on the need for transparency in R&D costs and drug prices in different countries.
"They were all saying that the high prices of medicines were very challenging for their health budgets," said a source who's following the issue closely. "They thought transparency is very necessary to be able to negotiate with pharmaceutical companies."
Italy has asked for the resolution to be discussed at this Assembly, but it may be held until the January meeting of the WHO Executive Board. With growing support from countries, it's unlikely the proposal will be killed altogether, the source said.—BWS
Other #WHA72 news:
NCD Experts, Change the Name! And Other Valuable Advice –

Global Health NOW
Monday, May 20
A Surprise Beginning for #WHA72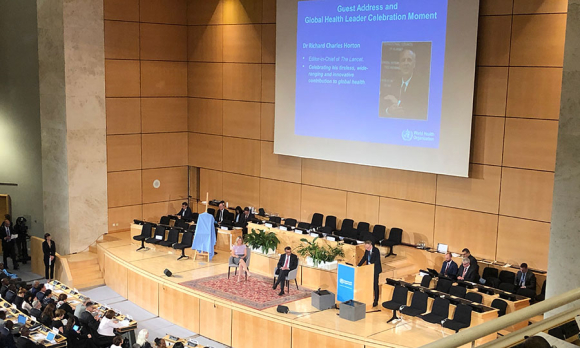 Something unexpected happened this morning at the opening of the 72nd World Health Assembly. 
Usually a rote exercise of procedure and aggrandizement, the Assembly surprised many with an unexpected quality: Emotion.
The change came early in the morning when Richard Horton, editor-in-chief of The Lancet, gave a passionate guest address. He shared 5 demands for WHA delegates gleaned from his social media followers—and shared his personal health crisis.
"There's very little beauty in disease," he said, "but there is inspiration to be found in health." 
WHO Director-General Tedros Adhanom Ghebreyesus then honored the memory of Cameroonian epidemiologist Richard Valery Mouzoko who was killed on April 19 in the Democratic Republic of the Congo. 
Following a moment of silence for Mouzoko and other health care workers killed in the line of duty, Tedros gave his opening address for the Assembly. It touched on UHC, his prime priority, and other urgent topics for the week but kept his focus on individuals with powerful examples drawn from the struggle for health. 
Start Local to Stop Air Pollution
Air pollution contributes to 5 million deaths globally each year and affects health in ways ranging from stunting and cognitive deficits to heart and lung disease. 
But the future isn't all bleak: Some cities and countries have successfully reduced air pollution. The key is to know the local sources and target them, says Daniel Kass, senior vice president for Environmental Health at Vital Strategies, 
A #WHA72 side event on Tuesday, "Every Breath Can Do Damage: The Urgency of Air Pollution Action," will convene experts from ministries of health and civil society to discuss the impact of air pollution and proven, cost-effective interventions. The event, which will be livestreamed at 12:30 p.m. CEST (6.30 a.m. EST), is sponsored by Vital Strategies and the NCD Alliance. 
In this Q&A, Kass shares insights on recent trends and successful policies—why local solutions are essential. 
Opening Session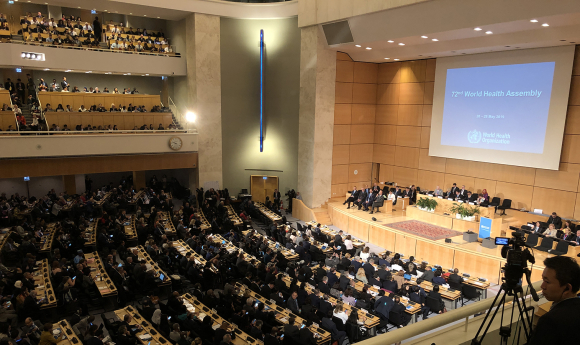 With delegates from 194 members states and a full agenda for the next week plus, #WHA72 opened this morning at 9:48 a.m. local time. Universal health coverage, public health emergencies, access to meds and other pressing issues top the agenda for WHO Director General Tedros Adhanom Ghebreyesus. But first, with WHO being a UN organization, there are plenty of official procedures to go through, including the election of the president of the assembly, vice presidents…
For the skinny on what to watch this week, see this GHN article.
 
Sunday, May 19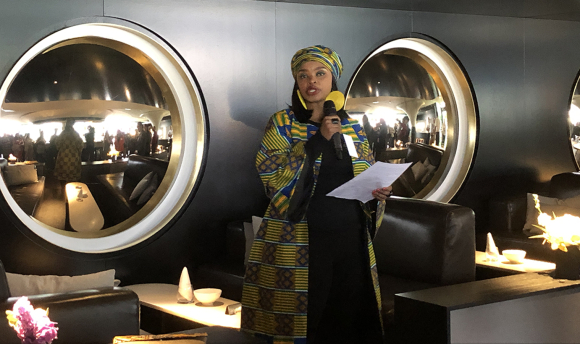 Zoleka Mandela, a breast cancer survivor and granddaughter of Nelson Mandela, shared her personal story on Sunday evening with attendees at a #WHA72 side event in Geneva on noncommunicable diseases. "All women and all men with #NCDs ought to have equal access to diagnosis and treatment," she said. "I know many of you here are leading the way. It's time for the rest of the world to follow."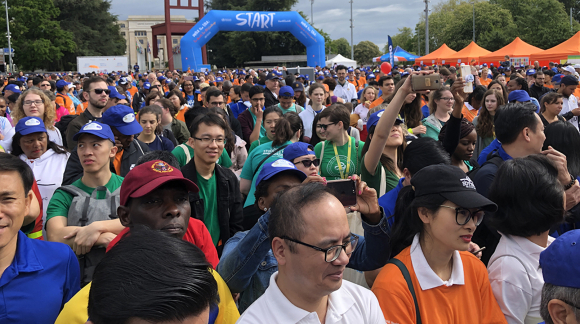 The 2nd annual Walk the Talk event roused Genevans and international visitors this morning for a few hours of aerobics and walking or running through the city. #WHA72 delegates and participants can use the warm up before a frantic week of assemblies, committee meetings and side events.
Wednesday, May 15
7 Things to Watch at the 2019 World Health Assembly 

–

#WHA72 Global Health NOW
From access to meds, to universal health coverage and a potential US-sponsored tiff over sexual and reproductive health rights, here's what you want to look for at #WHA72.
Join the tens of thousands of subscribers who rely on Global Health NOW summaries and exclusive articles for the latest public health news. Sign up for our free weekday enewsletter, and please share the link with friends and colleagues: http://www.globalhealthnow.org/subscribe.html