Global Health NOW at #CUGH2019 in Chicago
March 06, 2019
Thanks for Another Great Conference, #CUGH2019
From Africa, from Asia, from South America, West Loop and hundreds of other locales, about 1,700 people from 50 nations traveled to downtown Chicago for the 10th annual Consortium of Universities for Global Health conference.
With a theme of translation and implementation, the March 8-10 conference offered deep dives into pressing issues including climate change, tuberculosis, antimicrobial resistance, the global refugee crisis, gun violence in the Americas and dozens of other topics.
GHN Exclusives from CUGH:
#CUGH2019 Conference Blog
Saturday, March 9, 2019
Help, Don't Eat
Years ago, global health expert King Holmes was called in to help connect the disparate divisions of a large, unnamed organization. On his first day, he went to talk with a division leader and saw the following on an office white board:
Eat them or be eaten.
He thought a moment. Then he picked up an eraser and cleaned the board. In place of the carnivorous phrase, he wrote: 
Help them and grow stronger together. 
For Holmes, a professor in the departments of Global Health and Medicine at the University of Washington, the phrase exemplifies the global health credo. He recalled the story Saturday after accepting the Distinguished Leadership in Global Health Award at the Consortium of Universities for Global Health conference. 
Also honored for Distinguished Leadership was Ken Bridbord, senior scientist emeritus at the  Fogarty International Center in the National Institutes of Health.
 
Friday, March 8, 2019
Wake Up, Read GHN, Go Save Lives! 
Visit GHN in the CUGH exhibit hall (#16) for your chance to win a GHN t-shirt!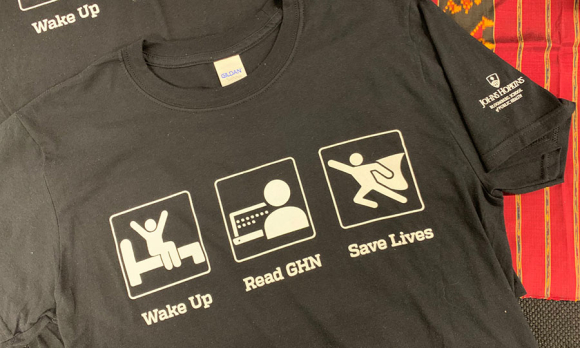 If you're the first person from your country to subscribe to GHN at CUGH today, we'll give you one of our new t-shirts. 
Already a subscriber? Bring a friend who subscribes and you both get a free t-shirt.
We've already checked off lots of countries including China, Georgia, Ghana, India, the Netherlands, Rwanda, Peru, and Venezuela. We are still looking for many more ... Afghanistan, Haiti, Finland, Eritrea, Kosovo, Mexico, and Yemen just to name a few—so head on over and say hello.
Keith Martin's Insider Tips for #CUGH2019
As 10th annual Consortium of Universities for Global Health conference got underway in Chicago last night, Keith Martin, MD, PC, CUGH's executive director, gave GHN some insider tips for #CUGH2019 conference goers. "People should follow their interests. They should also try to learn about new areas they may know little about"—taking advantage of the excellent sessions, posters, and opportunities to meet new people," he told GHN.
On Martin's not-to-miss list: Tonight's Pulitzer Center storytelling workshop (featuring GHN's Brian Simpson, Emmy-award winning journalist Seema Yasmin, award-winning author Sonia Shah, and Julie de Meulemeester, Pulitzer Center-McGill University reporting fellow (check out her piece on nutrition and Inuit health published in GHN).
Martin also says why it's worth staying to the end of the conference—to see the winners of the MacArthur Foundation 100&Change competition and a discussion on using research for action—tying up this year's theme of translation and implementation for Global Health.
By the end of the weekend, he told GHN, "I hope people will take away solutions to address some of the big challenges we are facing, share those solutions with colleagues and try to implement them when they go home, and reconvene when we meet in DC Apr. 17-20, 2020."—Dayna Kerecman Myers
Join the tens of thousands of subscribers who rely on Global Health NOW summaries and exclusive articles for the latest public health news. Sign up for our free weekday enewsletter, and please share the link with friends and colleagues: Subscribe to GHN