Demystifying a "Curse"
December 11, 2018
MURANGA, KENYA — Peter Muchoki spent much of his childhood lonely.
He wondered why he was different from the other children. He prayed that he and his brother would be cured of what they called their curse.
When his father found out that 8-year-old Peter and his older brother shared the same disease, he abandoned the family. Muchoki still sees him occasionally in Muranga, a rural town in central Kenya, but his father barely acknowledges him and offers no support.
"I think he saw that we wouldn't be any use to him. We would be giving him only problems," said Muchoki, now 28.
The diagnosis came after a series of 2-hour trips south to Nairobi to be examined in the country's largest public hospital. There, doctors found the boys had hemophilia—a blood disorder that prevents the body from forming clots.
"We used to say: 'We are cursed.' We didn't even like our community to know that we have the condition," said Muchoki, whose uncle also had hemophilia.
The exact number of people with hemophilia globally is not known. About 1 in 10,000 people are born with it. The global population of 7.7 billion would put the estimate for the number of people with hemophilia at 770,000—80% of whom live in low and middle-income countries.
The genetic condition is passed down by women but mainly affects men. In its severe forms, people with hemophilia lack clotting factors,which are proteins in the blood that control bleeding. Unattended bleeds also lead to blood rushing to joints and swellings that can cause deformities and disabilities. In severe cases, cuts and bruises left untreated can prove fatal for people with the condition because they don't stop bleeding.
A lack of knowledge about hemophilia in Kenya and other parts of sub-Saharan Africa has led some people to believe the condition is caused by a curse or witchcraft. Stigma is pervasive. Some families hide hemophilia or believe it is caused by magic so they don't seek medical care. "So many people, young and innocent boys, suffer when they have a bleed," said Carlos Maube, an administrator at the Kenya Hemophilia Association. KHA has just 456 registered patients though an estimated 5000 people live with hemophilia in the country.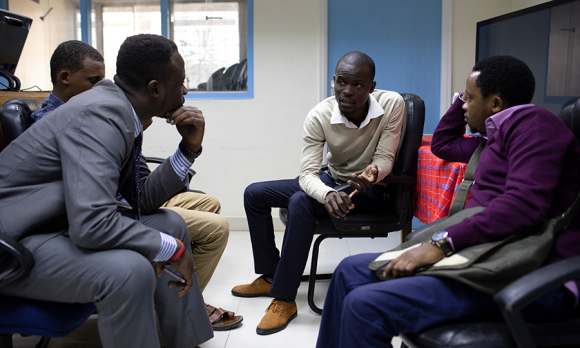 A lack of data means that no one knows how many people are dying from hemophilia and at what age, but Maube believes that many "die at a tender age because of a lack of information and the belief that a certain community has towards tradition," he said. This includes taking them to witchdoctors, who sometimes unwittingly kill people with hemophilia by using traditional cures that involve making cuts across a patient's body into which they rub or stuff medicines made from mashed or burnt leaves.
Irene Chami, a regional Africa manager for the World Federation of Hemophilia, has travelled across the continent and met with families that "have lost generations of boys" without knowing why, she said. She recalls conversations in Zambia, Malawi, Nigeria and Mozambique where "families will tell you that they have lost all the boys," she said.
In places where men are the clear breadwinners and male heirs are particularly prized, women whose families are known to have the disease can be passed over for marriage. They also can be disowned when they have children with hemophilia. "Very many women have been abandoned," said Chami, who has seen single mothers quit their jobs because of the emotional and logistical burdens.
"It's not the easiest of journeys to walk," said Sylvia Kathurina, whose son Andrew, now 16, was diagnosed with hemophilia at age 2 and was told he wouldn't make it past 8. "It's hard trying to watch your child being pricked over and over again and screaming and yelling" as doctors struggle to find lines to transfuse blood, she said.
The economic strain of dealing with hemophilia, especially in a developing country, also breaks families apart. Patients used to be admitted into hospital for weeks or months for plasma transfusions. And when there was no blood in the blood banks, the only option was being admitted for weeks of rest, compression and elevation.
Lengthy hospital visits and lack of factor can cost families in other ways as well. Children with hemophilia often have to repeat school years or drop out. Adults struggle to find or retain work in a mostly manual labor market because of frequent injuries, swellings and stiffness, or permanent deformity and disability caused by the lack of adequate care. 
Anthony Odek, a 25-year-old lawyer with severe hemophilia, has faced problems in his professional and private life after a lack of proper treatment destroyed his knee cartilage, which can sometimes lay him up for days and cause pain he describes as "11 out of 10."
"People don't understand. They think that it's just laziness or avoidance of work," Odek said, adding that hemophilia has made him an introvert because he can't play sports or even stand, walk or sit for long. "It really brings a lot of stigma with how your friends view you. They see you as a person who's not outgoing. Even to the opposite sex, some girls just think: 'Oh this guy's disabled', so … ."
Kibet Shikuku, a hematologist at Kenyatta National Hospital in Nairobi and KHA chairman, said greater awareness of hemophilia—and its treatment—is needed for the general public and health workers. "For the majority, this is a curse, and this is what we want to demystify," Shikuku said. Wider access to treatment and better care would help reframe hemophilia from a curse to a treatable health issue.
The change isn't coming soon enough for people like Peter Muchoki. "I am not the only one, we are many..I came to realize that I should not be hiding from the community—I should be free like them," he said.
Read the whole GHN series "'We are Many': The Race to Treat Hemophilia in Kenya" here, including Part II, Hemophilia's Crippling Cost, documenting the impossibly high costs of treatment.
Join the tens of thousands of subscribers who rely on Global Health NOW summaries and exclusive articles for the latest public health news. Sign up for our free weekday enewsletter, and please share the link with friends and colleagues: http://www.globalhealthnow.org/subscribe.html