#TropMed17 Lands in Charm City
November 05, 2017
A big GHN welcome to the 4,400 attendees of the American Society for Tropical Medicine and Hygiene conference to GHN's hometown, lovely Baltimore, Maryland. If you're attending, please stop by GHN's booth, #317 and say hi. If you're not in Charm City, watch the following space for regular updates on news from #TropMed17.
***
Thursday, November 9, 2017
What Will It Take to End HIV/AIDS?
From the early 1980s—when the median survival of people suffering from AIDS was about 8-15 months—to his closing plenary speech at #TropMed17 yesterday, the disease has shaped the course of Anthony Fauci, MD's career.
Delivering an update on the state of the science toward an end to the pandemic, Fauci, director of the National Institute of Allergy and Infectious Diseases at the NIH, recalled the early days, before there was even a test for infection. Eventually—because of investments in science, Fauci emphasized—researchers pinpointed vulnerable points in the replication cycle of the virus, giving birth to the discipline of targeted antiviral therapy. Those findings led to AZT, the first HIV drug, in 1987. Now, on today's antiretroviral therapy (ART), HIV-infected individuals can live an additional ~53 years (if they take their medication religiously). "That's almost—but not quite—a normal lifespan," Fauci said. It adds up to more than 10 million deaths averted since 2000, and according to UNAIDS, as of last July 53% of all people living with HIV globally had access to HIV treatment.
Fauci credits the gains to the synergy between prevention and treatment modalities. "If ever there was a game-changer in any disease, it was treatment as prevention," he said. In a perfect world, treating every infected person, you could cut down the epidemic this way—even without a vaccine. However, Fauci said, a major implementation gap—and a funding gap—makes that unlikely.
"We have 19 million people already on therapy. But that means we have 17.2 million not on therapy," in the hardest-to-reach parts of the world." If 73% of all the HIV-infected people in the world could be pulled down to below detectable levels, mathematically the curve of the outbreak would start to dramatically decrease, he explained. But, "Although we're doing very well, we're only at 38%."
We have a 31% effective vaccine—a good start, Fauci explained, but not good enough. He thinks it's extremely unlikely that we're going to see an HIV vaccine that's 98% effective, similar to measles or yellow fever or polio, for example. But a vaccine with 50-60% efficacy, together with combination HIV prevention, "may be able to do the trick," he said, concluding: "Development of a moderately effective vaccine, together with optimal implementation of existing treatment and prevention modalities … could end the HIV/AIDS pandemic."—DKM
Wednesday, November 8, 2017
Clearing the Air for 3 Billion People
The worst place for air pollution? In the home.
An estimated 3 billion people burn solid fuels like wood to cook and heat their homes, leading to 4 million premature deaths attributable household air pollution each year, according to WHO.
More 780,000 annual deaths from household air pollution occur in India alone each year.
Yet it's not easy to persuade people to change to cleaner burning fuels like liquefied petroleum gas (LPG).
"It's important to keep in mind that cooking by open fire is tens of thousands of years old. Humans have grown up with fire so to speak," Forgarty senior scientist Joshua P. Rosenthal said during a Wednesday event on clean cookstoves at the American Society of Tropical Medicine and Hygiene (#TropMed17) conference.
Researchers know that the use of LPG, electricity and ethanol can make dramatic improvements in household air quality, providing immediate health benefits. "This is really less now about an intervention challenge—what is the best posible technology—and more about implementation now and thinking about what is really needed so people can shift over to clean cooking," said Sumi Mehta, a senior director at the Global Alliance for Clean Cookstoves.
Various studies are underway that provide free cookstoves and LPG to measure usage and improvements in household air quality.
"The good news is .. women really like to use clean fuels when possible," said Mehta. "The clean fuels really are the ones offering the greatest health benefits."—BWS
Rebuilding Medical Education in Iraq
Battered by 3 major wars since 1980 and the displacement of more the 3.3 million people in the last several years, Iraq faces significant health problems and a lack of health care access.
An important step in rebuilding Iraq's health system is for the country's 25 medical schools to produce more physicians, said Mohammed Al-Qurtasi, dean of the Al-Kindy College of Medicine at the University of Baghdad, during a Wednesday talk at the #TropMed17 conference.
While the U.S. has 230 general practitioners per 100,000 people, Iraq has less than 10, he said.
The country also needs to produce better-educated physicians, said Eklhas Khalid Hameed, an assistant professor at Al-Kindy. To that end, Al-Kindy began revamping its curriculum in 2012.
The biggest challenge? Overcoming senior faculty's resistance to change. "Each head of a department wants to be king of his department," she said. "With every change, we have a lot of challenges. It will never be easy." BWS
Ed. Note: Full story here.
Tuesday, November 7, 2017
Medical Mystery in a Red Patch of Skin
The patient is a 43-year-old woman. She has a cutaneous erythema (a patch of reddened skin) on her right thigh.
What's the cause?
Andreas Neumayr, MD, of the Swiss Tropical and Public Health Institute, explored the medical mystery on Tuesday afternoon at the American Society of Tropical Medicine and Hygiene #TropMed17 conference.
The woman, who was born in Peru but has lived in Switzerland for 20 years, developed the erthyema during a visit to Peru in early 2014. It went away but returned in March. After treatment with amoxicillin/clavulanic acid, it disappeared only to reappear at various times through the rest of the year and into early 2015.
Neumayr offered up some possibilities for the audience to consider: an autoimmune/allergic reaction? Paraneoplatic syndrome (an immune response to a tumor)? A parasite? The attendees leaned toward the parasite option.
"Clearly this case looks much like a tissue invasive parasite," Neumayr said, drawing nods of approval from the audience.
After considering a scary-long list of tissue invasive parasites, Neumayr unveiled the culprit: Gnathostoma, a tiny parasitic worm a curious flat nob of a head. "Each time I see it. I'm astonished by nature. It looks like a drilling hat. It reminds me of tunnel drilling machines [used] in the Alps," Neumayr said.
How did the worm find its way into the victim? Raw seafood. In her case, likely a plate of ceviche.
After treatment with Albendazole and a few relapses, and then Ivermectin and then a combination of the two, the women finally freed herself of the Gnathostoma by September 2015. —BWS
Minutes to Die: Snakebite
Scourge of Snakebites
If you're at #TropMed17, don't miss tonight's Minutes to Die screening at 7:15pm in the Convention Center Ballroom 1. See the trailer below, from YouTube.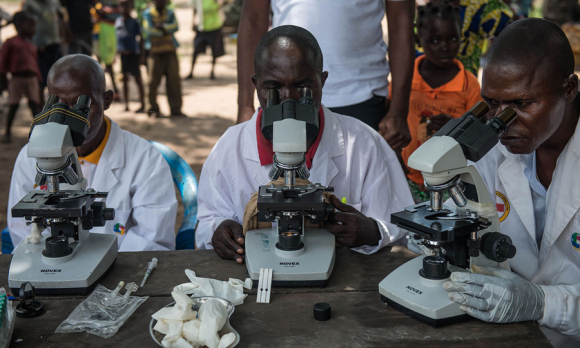 A Paradigm Shift for Sleeping Sickness Treatment?
The first all-oral treatment to treat sleeping sickness offers a safe and promising alternative to the current first-line treatment, according to clinical trial results published in The Lancet earlier this week.
The open-label randomized Phase II/III clinical trials, led by Drugs for Neglected Diseases initiative (DNDi) and its partners, compared the efficacy and safety of fexinidazole with nifurtimox-eflornithine combination therapy (NECT). The study recruited nearly 400 patients from Democratic Republic of Congo (DRC) and Central African Republic in the late stages of the tsetse fly-transmitted disease, also known as human African trypanosomiasis (g-HAT). The results showed a 91.2% treatment success rate for fexinidazole, compared to NECT's 97.6% rate. But NECT, which must be administered intravenously in a hospital setting, is considered far from optimal.
"Having an oral drug like fexinidazole as a future first-line treatment, with NECT as a second line, opens the way for a paradigm shift in how national programmes and the World Health Organization (WHO) can tackle the disease, as well as facilitating the integration of disease management in the health system," said Nathalie Strub-Wourgaft, DNDi's medical director. "In due course, treatment could be administered at the primary healthcare level, removing the need for hospitalization, and potentially, for the first time, patients could even take their entire treatment at home."—DKM
Asian Tiger Mosquitoes' Dangerous Second Supper
One bite is not enough for Asian tiger mosquitoes.
A second blood feed makes them a much more powerful source of Zika and dengue virus infections, according to new research presented Tuesday at the American Society of Tropical Medicine and Hygiene (#TropMed17) conference.
Though known as an aggressive biter, the Aedes albopictus mosquito wasn't thought to be a potent vector of Zika and dengue. But previous evaluations of its ability to transmit the viruses were based on a single feed of infected blood. When researchers from the Connecticut Agricultural Experiment Station and Yale School of Public Health gave the mosquitoes a second feeding a couple days after it supped infected blood, the mosquitoes became much more infectious.
"The percentage of our Asian tiger mosquitoes that were capable of transmitting virus jumped from 25 to 75%," said lead author Doug Brackney, PhD, in an ASTMH news release.
The scientists also found second feeding boosted the potential of Aedes aegypti—the best known vector of dengue and Zika—to transmit the diseases. —BWS
Another Swing at Vector-Borne Diseases
They put 80% of the world's people at risk. They kill 700,000 people each year.
They don't get near enough global focus.
From Zika to malaria and yellow fever, vector-borne diseases are getting renewed attention through WHO's new Global Vector Control Response 2017–2030 initiative, said Steve Lindsay, a public health entomologist at Durham University. Lindsay spoke Tuesday afternoon at the American Society of Tropical Medicine and Hygiene conference.
GVCR seeks to take a broader perspective across all vector-borne diseases and correct what former WHO Director-General Margaret Chan called a "massive policy failure" that led to inadequate mosquito control in the 1970s. Last year, Chan linked recent outbreaks of Zika, dengue and chikungunya to those errors.
"The important point here is the way we deal with these diseases today [in terms of] vector control is inadequate," Lindsay said.
Vector control efforts need to adapt to the changing ecology of vectors caused by urbanization, climate change, deforestation, irrigation, etc. "All of these factors shape the pattern of vector-borne diseases," he said.
In addition to traditional vector control approaches like insecticide-treated bed nets, community spraying and drainage of stagnant water, new approaches are needed, he said.
Vector control innovations on the horizon include release of modified, transgenic or sterile mosquitoes; toxic bait traps; new classes of insecticides and spatial repllents, Lindsay said. —BWS
The Scoop on Nat Geo's Big Vaccine Story
Journalist Cynthia Gorney chose to tell a story less told: how to get enough vaccines—for pneumonia, specifically, which takes the lives of more young children than any other disease—to kids who need them the most. National Geographic published her piece, Here's Why Vaccines Are So Crucial, last month, and in an exclusive Q&A on the sideslines of #TropMed17 she took GHN behind the story.

She traveled to Bangladesh, where Samir Saha, PhD, head of the Microbiology Department at the Dhaka Shishu Hospital, introduced her to a child who was not lucky enough to get the vaccine. Saha, Gorney explained, "let the layers of irony of this situation build until it was clear: It wasn't just that she couldn't get it because they were poor. Or that Bandgladesh couldn't afford to buy it. It was that the vaccine that existed at that time wouldn't have taken care of her anyway because it was designed for kids who didn't need as much but could afford to buy it. It was so profoundly wrong."

But it's also a story about how the "enthusiastic distress" of people like Keith Klugman, MD, PhD, Director of Pneumonia at the Bill & Melinda Gates Foundation, is driving improved vaccine access.

Gorney, Klugman, and Saha will all be at an ASTMH event this evening: The Live-Saving Vaccine the World Has Never Heard About, so RSVP now—and for those of you not in Baltimore, you can watch the livestream of the event here.-Dayna Kerecman Myers, Global Health NOW
*** 
Monday, November 6, 2017
Taking the Sting Out of Residual Malaria Transmission
Gerry Killeen has sobering message about residual malaria transmission. It's possible to score big gains against malaria, driving down infections to very low levels—but getting to zero is supremely difficult, Killeen said during a Monday afternoon talk at the 2017 American Society of Tropical Medicine and Hygiene conference.
Although many countries have eliminated malaria, many eliminiation initiatives have failed. "The champagne is on ice but the party never happens," said Killeen.
Clearly worried that his stark message about the pernicious persistence of malaria, Killeen, of the Ifakara Health Institute in Tanzania and the Liverpool School of Tropical Medicine, leavened the seriousness with some memorable quotes:
"Anopehles arabiensis is the Bruce Willis of mosquitoes. It's very hard to kill."
"God bless the bed net which gave us all something to celebrate again."
On an unusual mosquito deterrent: "Burning elephant poo may give you an idea what [local people] think of mosquitoes."
On the comparative ease of treating pigs and other animals to eliminate a reservoir for Plasmodium: "If you kill a human being, you have a serious problem. If you kill [a pig], you have barbecue."—BWS
A "BreathPrint" for Malaria?
A new breath test has successfully diagnosed malaria in African children, according to a Washington University in St. Louis scientist speaking at the 2017 American Society of Tropical Medicine and Hygiene conference on Monday afternoon.
The scientists discovered 6 compounds exhaled by people infected with malaria that form a unique "breathprint" of the disease. Interestingly, the researchers also discovered that people with malaria exhale a compound known to attract mosquitoes—which could enhance malaria's spread.
Using breath samples from 35 children in Malawi who were healthy or infected with malaria, the team correctly diagnosed 29 of them—an 83% success rate. The "breathprint" findings were compared with blood microscopy—the traditional gold standard in malaria diagnosis.
"We need new malaria diagnostics," said Chad Schaber, one of the Washington University scientists. Current rapid diagnostic tests require a blood sample and can detect a parasite antigen known as HRP2. However, the antigen can persist in the blood up to a month after infection—producing a positive result even though the infection has subsided. And scientists have found some Plasmodium falciparum parasites (the most dangerous form of malaria) don't produce HRP2, Schaber said.
The scientists knew recent research has shown that mosquitoes seem to favor feeding on individuals infected with malaria more than those who aren't infected. The Washington University team were surprised to discover a compound in the breath samples that is identical to one produced by a certain nectar-producing plants that attract mosquitoes.
"It's starting to seem like these molecules might explain why mosquitoes are more attracted to infected individuals than uninfected individuals," said Schaber. "We are moving to a new paradigm of parasite transmission … where some parasites actually change the odor of the host to increase attraction."—BWS
Zika Updates on Diagnoses, Genes and Semen
What's the latest on Zika? Concerns remain about diagnosing Zika virus in pregnant women while the virus has a long life in semen, said Susan Hills, of the CDC's Division of Vector-Borne Diseases, National Center for Emerging and Zoonotic Infectious Diseases. Hills gave a quick tour of the recent literature during a Monday morning session at the American Society of Tropical Medicine and Hygiene's 2017 conference.
Diagnostic testing of ZIKV infection in pregnant women remains a challenge because the virus can be present in most body fluids for limited time. Long-term persistence of ZIKV immunoglobin antibodies mean it's difficult to determine if this results from a recent infection.
Decisions about amniocentesis in pregnant women with lab evidence of possible ZIKV should be made on a case by case basis because of the paucity of data on it—ZIKV RNA in amniotic fluid is only transitory. Its absence may not mean an absence of infection, Hills said.The CDC's Morbidity and Mortality Weekly Report from July 24, 2017 issue makes new recommendations for who should be tested, when, using which test, and how to interpret tests.
A September 28 article in Science, researchers found that a single mutation in prM protein leads to more significant infectivity and more fetal microcephaly.
ZIKV has been detected longer in semen than vaginal fluids. In a small study, 31 of 50 men had Zika RNA, the median clearance was 34 days.—BWS
To Be Publication-Ready, Be Bold—and Do Your Homework
Junior researchers new to the world of publishing need not be intimidated by the challenge of finding a home for their study. As part of an ASTMH career-building panel, Ramin Asgary, MD, PhD, of the Columbia School of Public Health and Weill Cornell Medical College, shared ideas and strategies on packaging and presenting research findings for maximum impact.
Even more than the data you collect, your own critical thinking is the most important piece, he said. "Always try to reach the border between social political science and health science—that is the area that is overlooked." Think how your research could help bridge that gap, and look for an angle with policy implications outside health.
Then, determine the simplest message within your research, and build your case around that, Asgary advised. Think of how you explain your work to family and friends once you return from 6 months of research in the field, for example. "Believe it or not," Asgary said, "that's the message that you really need."
Once you've distilled your message, you need to decide which journal to approach—and doing your homework is key. Look at the landmark articles used to develop your research, then look at the underpinning citations, and define a shortlist to home in the best landing spot for your paper.
It can be intimidating—but Asgary said to be bold, even if you're a junior researcher. A lot of good research, he says, comes from junior trainees—because they're less biased, and more open. Tell the editor you're a trainee, and they will be more likely to offer guidance and give you more options to find a platform for your discoveries.
One final warning: Protect your reputation, by being wary of predatory journals. It's another reason to do that homework.—Dayna Kerecman Myers
*** 
Sunday, November 5, 2017
Paul Farmer: Remember the 4 S's
Despite repeated lessons from natural disasters and explosive epidemics like Ebola, many low- and middle-income countries still don't have what they need: the 4 S's, Partners in Health co-founder Paul Farmer said during a keynote speech at the American Society of Tropical Medicine and Hygiene conference attendees on Sunday.
Stuff, staff, space and systems make all the difference in saving lives during an outbreak, Farmer told more than 1,000 attendees during the opening #TropMed17 plenary. As an example, he pointed to the case fatality rate of 23% in 1967 in Marburg, Germany when the Marburg virus was first discovered. He compared that to an 86% case fatality rate in Africa during recent Marburg outbreaks.
Too often the media and global community focus on the "exotica" such as primate carriers of disease during outbreaks while the more mundane aspects are ignored, he said. "We don't think about health system. We don't think about training. We don't think about strengthening national institutions, and that has been the tragedy in West Africa as well," Farmer said.—Brian W. Simpson