Unmeasured and Unfunded: Lack of Data Hinders Burn Prevention and Care
October 20, 2017
In Part II of GHN's Exclusive 3-part special series on burns in Nepal—the Untold Global Health Story of 2017—Joanne Silberner puts the extent of untreated burns in Nepal into focus: Of an estimated 56,000 burn injuries in the country in 2008, only about 1,000 received adequate care. Read the entire Blazing Injustice series here.
KATHMANDU, NEPAL—Five years ago, in a village in south-central Nepal, 8-year-old Saraswoti Shrestha stumbled into a pot of oil heating on the open-fire stove in the middle of her family's one-room home.
She regained consciousness in a local hospital, her life changed forever. Her entire torso and neck were deeply burned. Over the next few months, without proper dressings and splints, burn contractures formed—thick tissue that pulled her head tightly down, and locked her right hand to her forearm. Sitting on a stoop in the shade near her family's home recently, she remembers not being able to lift her head, or comb the long dark brown hair that frames her wide dark eyes. "My friends at school made fun of me," she remembers. "I used to feel so bad."
As a statistic, Saraswoti's burns barely made a blip in Nepal. They made even less of an impression globally. 11 million people were burned severely enough to require medical attention in 2004, according to a recently updated WHO fact sheet. In Nepal, the estimate for 2008 was 56,000—and burn surgeons say only about 1,000 of those got adequate care.
Only a handful of global NGOs focus on burns, and they mostly concentrate on the pressing need for surgical care.
Burns like Saraswoti's weren't addressed in the Millennium Development Goals, nor was the broader category of injuries. The new Sustainable Development Goals do not refer specifically to burns. The closest they get is Goal 3, which is "Good Health and Well-Being."
The neglect has some serious repercussions. There's an adage in business management: "What gets measured gets done." In global health, it's more like "what gets measured gets funded," says Sara Anderson, a senior advisor for innovation and advocacy at ReSurge International, an NGO that focuses on helping local surgeons in Africa, Asia and Latin America. "For the hidden health crisis of burn injuries, the lack of global data and evidence has contributed to a lack of resources," Anderson says.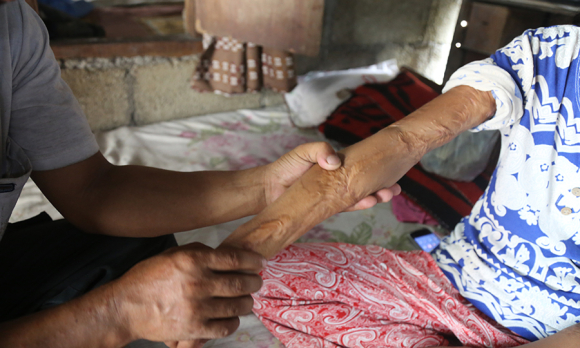 Unfortunately, burns are difficult to count. Many burn victims don't show up in the medical system. Nepal, for example, is a rural, mountainous country with notoriously poor roads made worse by the 2015 earthquake. Saraswoti was close enough to a hospital to get there by ambulance. But for many, it could take days of walking over footpaths. Burn victims or their families may figure the wound is so bad that nothing can be done, so they don't make the trip. They may go to local traditional healers for ointments and salves. Many lack money, and try and treat wounds at home. And door-to-door surveys count only current burns or recent deaths.
Even if people do make it to the medical system, the cause of their burns can be misattributed. That happens with bride burning. Sometimes in Nepal, mothers-in-law or husbands are dissatisfied with the dowry a woman has brought, and set her on fire. It's rare, but how rare no one knows. Victims sometimes say it was a cooking accident because they're ashamed to admit what really happened. Sometimes they believe they have nowhere else to go but back to their families, so they have to protect their husbands or mothers-in-law from punishment.
Anderson speculates that burns are not a political priority in part because disabling burns and contractures are rare in high-income countries. "Few in the West know of its staggering scope or the debilitating and disabling consequences burn injuries can cause," she says. In developed countries, you don't see the crippling contractures like Saraswoti had. They only occur when treatment is not available or is substandard. Compare that to a condition like HIV, whose toll is visible in both poor and rich countries.
With all these obstacles to gathering data, the available estimates of burn incidence and death vary.
The Institute of Health Metrics and Evaluation, through its Global Burden of Disease calculations, calculated the number of deaths from burns worldwide in 2016 at 132,804. The WHO gives a figure of 180,000. That's declined from an annual estimate of more than 300,000 just a few years ago, mostly because of improvements in data gathering.
As for disabilities, the WHO puts the total of disability-adjusted life years at 12 million for 2015. The Global Burden of Disease's estimate is 8 million in 2016, about the same number as for firearm violence and about half the number for alcohol abuse. (In Nepali women and girls, burns cause more DALYs than HIV.) Numbers for the overall global economic impact are hard to come by, but studies of individual countries show the costs of treatment are unaffordable for most people.
Charles Mock, formerly with the WHO and now an injury expert and professor of surgery at the University of Washington, says the current differences in the GBD and WHO numbers aren't all that great, but "the fact that these 2 groups have somewhat different numbers indicates how poorly we understand the problem."
Results vary within Nepal as well. Sanjib Tripathee and Surendra Jung Basnet, Nepali plastic surgeons who work with burn patients, analyzed 8 published papers on burns in Nepal this past April in the journal Burns & Trauma. 6 of the papers dealt with patients admitted to certain hospitals. 1 study was a survey of 12- to 14-year old students in Kathmandu, which is mostly valuable for information on schoolchildren in that area. The final paper got the closest to giving a full picture–it was a household survey of nearly 2,700 people. But it only included 15 of Nepal's 75 districts, and relied on those surveyed to provide accurate information.
Basnet says that understanding who gets burned and how will help planners figure out how to address the problem of burns and their prevention. But the 8 studies show a great deal of variation.
In 5 of the studies, the majority of patients were female. In some hospitals, the preponderance of patients were children. In others, it was the working age population. Some of the studies identified scalds as the major cause of burns, others ranked open flames as number 1.
And even if the studies were consistent, hospitalization statistics don't necessarily reflect what's going on in the general population.
Basnet and his co-author concluded that the lack of effective prevention programs is at least partly due to the limited epidemiological data. David Meddings, who coordinates burn work at the WHO, agrees. "Without adequate data, it is impossible for countries to rationally prioritize burn prevention programming," he says.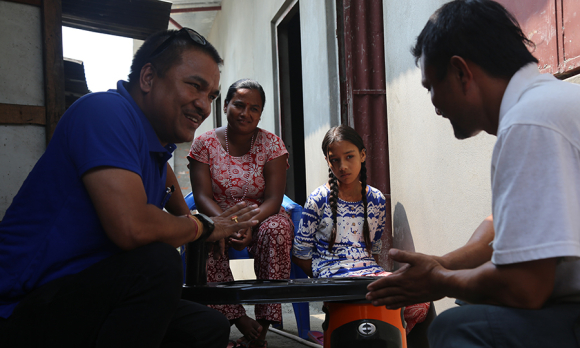 There's another reason for the lack of burn prevention and treatment programs, says Sara Anderson of ReSurge. "Gaining political priority for disabling burns is tough," she says, "because there are so many other global health issues vying for attention and resources."
Still, both she and Mock say it may take time, but there's hope for burns. They both point to the increasing attention being paid to another cause of injury—road traffic crashes. "It took a long time to get that on the radar screen of international agencies, governments, and donors," Mock says. And Anderson points to groups such as the NCD Alliance, the G4 Alliance for global surgical care, and the Frontline Health Workers Coalition as doing a good job bringing attention to high-impact but neglected illnesses and conditions.
WHO's main priority for burn prevention is better data collection so that prevention programs can be effectively targeted. It has pilot-tested a community survey plan that should be released soon, and in the next few weeks it will be posting a voluntary burn registry that will include a simple, standardized form for information about hospitalized burn patients. The hope is that governments and NGOs will collect and share the data. "Once data collection instruments specific to burns are disseminated and used widely, the burn prevention field can begin to assemble a much less fragmented picture of the problem, and rationally determine priorities for intervention," Meddings says.
Burn victim Saraswoti Shrestha is now 13. Sitting in the shade outside her family home, her parents by her side, she says with her eyes down that she thinks the scars caused by delayed care that still disfigure her torso will keep her from getting married. Her mother says Saraswoti cries about that often.
But Saraswoti's face brightens when she's asked if things have improved for her since the surgery for her contractures. Now she can look up, and she's fully mobile. "Friends come around. I can move my hand, my neck," she says.
When asked what she'd like to do when she grows up, she quiets her voice to a whisper and says she hopes to become a plastic surgeon.
Then, in an even quieter voice, she adds: "So I can help other people who've been burnt."
Read the entire "Blazing Injustice" series here.
Joanne Silberner, an 18-year veteran of NPR's Science Desk, is a freelance reporter focusing on global health. She also teaches journalism at the University of Washington. 
Do you know of another Untold Story you'd like GHN to tell? If so, please enter the Untold Global Health Stories of 2018 Contest by November 10, 2017.
Join the thousands of subscribers who rely on Global Health NOW summaries and exclusive articles for the latest public health news. Sign up for our free weekday enewsletter, and please share the link with friends and colleagues: http://www.globalhealthnow.org/subscribe.html