Reconstructing Hope: A Surgeon's Mission to Help Nepal's Burn Patients
October 18, 2017
In Part I of GHN's Exclusive 3-part special series on burns in Nepal—the Untold Global Health Story of 2017—Joanne Silberner profiles the efforts of surgeon Shankar Man Rai to help forgotten patients in Nepal. Read the entire Blazing Injustice series here.
KATHMANDU, NEPAL—It's late on a Sunday afternoon in an operating room at the College of Medical Science in Bharatpur, a noisy, hot city in central-southern Nepal. 21-year-old Kamal Malla lies on an iodine-stained sheet on the OR table. The white-walled room looks worn, there's no light box to view X-rays, but it has what's needed for this surgery—a machine to monitor Malla's vital signs, a bright operating light and some basic surgical tools spread out on a white sheet.
Before the surgery began that September afternoon, the third and fourth fingers on Malla's right hand were fused and tightly bent—made nearly useless. As a toddler, he knocked over a kerosene lamp, burning his hand badly. For 18 years, thick scars called contractures bound the two fingers together. The X-ray the doctors held up to the window showed how the pull from the contractures had twisted his finger bones around each other.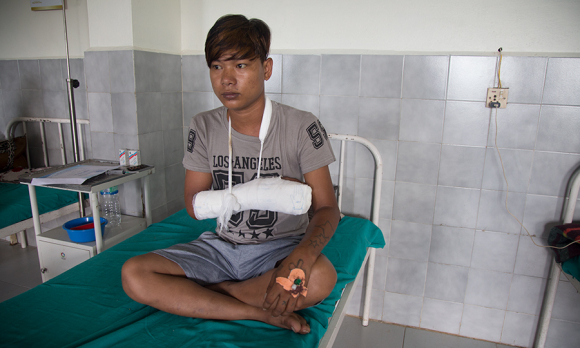 Burns like Malla's aren't high up on the global health agenda, but they take a toll. According to the WHO, 95% of serious burns occur in low- and middle-income countries. Globally, they account for 180,000 deaths annually and 12 million disability-adjusted life years. In Nepal, the government estimates there were 56,000 serious burns and 2,100 deaths in 2008. For several decades Malla's plastic surgeon, 61-year-old Shankar Man Rai has been on the forefront of a movement to bring more attention and resources to burn treatment and prevention in Nepal.
Less than an hour into the surgery, Rai successfully separated the fingers. Now it's time to insert pins into the clawed finger bones to hold them straight during healing. Rai starts with a hand-operated drill, but it's not doing the trick. He switches to a battery-operated version. After a few seconds, the new drill sputters and dies. Finally a nurse brings a new battery.
"Surgery in the developing world," Rai says, breaking his intense focus for a moment. The grin under his surgical mask makes his eyes twinkle as he looks up from Malla's hand. His short black hair edges out from his surgical cap. A few barely discernible age spots belie his wrinkle-free face.
The moment ends, and he gets back to work, pinning the bones straight and carefully grafting some skin from Malla's torso to cover the fingers.
Rai is an American-trained Nepali burn surgeon called brilliant by fellow surgeons both in Nepal and overseas. Why would he practice his art here, without access to sophisticated tools? And why the focus on burns, a below-the-radar global health challenge that afflicts mostly poor people unable to pay?
The answer starts in a rural village in eastern Nepal where Rai grew up—60 miles south of the Everest base camp.
His father was an Army officer, so his family had some money. But there was no place to spend it in their tiny village. They produced almost everything they needed. Cloth from the cotton they grew. Rice. Lentils. Vegetables. Goats. Chickens. Buffalo. For anything else they'd barter their products at a nearby bazaar.
One day a civil engineer came to his village. "I was so surprised," Rai remembers. "Because I did not have a good road in my village. I did not have a proper irrigation system, I did not have a proper water supply, and there was no bridge over the river." This visitor could work on changing that, and make life better for the villagers. Engineering became Rai's career goal.
But his father objected—he thought engineers not only designed things but also constructed them. And Rai was skinny and short. While he had a lot of stamina, he didn't have a lot of muscle.
"You're going to medical school," Rai's father said. And as an obedient son and a good student, he did. Residency was in Bangladesh in the late 1980s, after India and Great Britain refused to take him. He returned to Kathmandu in 1992 to do general surgery.
His life took another turn that year when he bumped into a group of foreign doctors heading in to do a 45-minute surgery on an infant with a cleft palate. "At the end of the operation, the face of the baby was normal," he says. It was a revelation—a quick, portable surgery that makes a major change in people's lives. "There were not many instruments," he remembers. "I immediately thought if I could learn how to do this I could easily get those instruments in my small bag and go to remote district hospitals."
With the support of an American physician named Stephen Bezruchka, who'd seen Rai at work in Nepal, Rai spent a year at Southwestern Medical Center in Dallas and another year at the Cleveland Clinic.
Back in Nepal, Rai focused on where he saw a need, not just cleft palates but burns as well. Here too was immediate transformation. People with contractures that locked their heads to their shoulders, or forearms to upper arms, or lower legs to upper legs could get freedom of movement with a short surgery. It wasn't as complete as cleft palate surgery—scars often remain—but it transformed the victims' lives and gave Rai great satisfaction.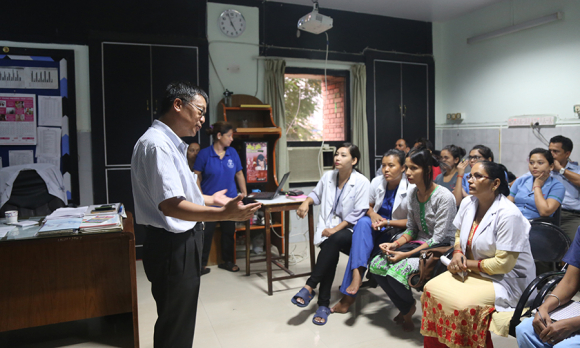 Today, he runs the Nepal Cleft and Burn Center in Kathmandu, and he does a lot more than surgery. He's arranged for solar panels for the hospital and a recycling system that brings in a little money. And meanwhile, he trains surgeons, operates around the country, gives talks on burns in Nepal and in conferences worldwide, courts NGOs and lobbies the government for more support for burn prevention and care.
Rai has been so effective in increasing accessibility to burn care in Nepal that Jeff Whisenant, president and CEO of ReSurge, one of his donors, visited recently to see how Rai did it, and whether his approach could be exported to other countries.
Whisenant says one reason for Rai's success is his unwavering ambition to help poor people like the ones in his old village. There's also his method: servant leadership. Rai is basically an encourager—encouraging everyone from the women who dress patients' wounds to his heir apparent to Nepal's Minister of Health. "He doesn't want to pull people along, he wants to walk with them. In the end, people say 'we did it ourselves,'" says Whisenant.
And Rai himself gives the credit to the NGOs and people who've helped him along the way. ReSurge spends more than half a million dollars in Nepal for surgery and burn care. Other NGOs such as WonderWork, Interplast and Working Hands as well as Utah businessman Jim Webber support Rai's burn work.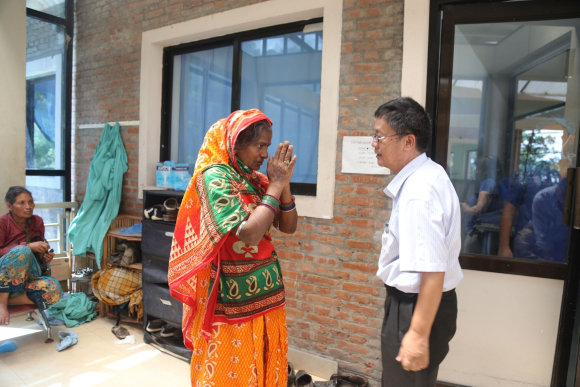 Follow Rai through the halls at the Nepal Cleft and Burn Center and you'll see that even when he's in a rush—and he always is—he has time for patients, for students, for anyone who wants to grab his ear. He greets the physiotherapists in the burn unit by name. It's only his beleaguered office manager who has to chase him down to get a minute or 2.
Little seems to bother him. Not the failure of a piece of equipment during surgery, or negotiating Kathmandu's horrific traffic in his little Honda, or breathing the throat-choking city air, or the inevitable 2 or 3 hour waits at hot and airless airports on his weekly trips to rural areas.
But quiet, calm Shankar Rai has a confession. "Multiple things make me angry," he says.
Number one is the lack of burn care in Nepal. He estimates that no more than 1,000 of the 56,000 people who suffer significant burns each year get proper treatment. His dark eyes flash when he talks about his patient Kamal Malla. Splints, exercises and better wound care after the initial burn could have prevented his contracture. "This is a completely preventable deformity that he had to live with for a long time," Rai says.
Another source of anger: how burns are eclipsed by other issues both nationally and on the global health agenda. He thinks he knows why. "Burns affect mostly poor people, women, and children. It's not provocative, and these people have no political voices," he says.
So that's his recipe—an intense, tempered ambition to help poor people, plus a hidden, bone-deep anger.
The day following the surgery, Malla is sitting up in a bed in the recovery ward. The pain isn't bad. "When I was searching for jobs, no one wanted to give me one," he says through a translator. His friends made fun of him. "I'm happy now," he says. He plans on doing what a lot of young men his age in Nepal do: Go to the Gulf states for work and send money home. Rai says with the physiotherapy Malla will now get, the chances for full mobility are high.
The following day, Rai is back in Kathmandu. He does surgery in the morning. Then he trades his scalpels for a well-worn PowerPoint and heads to the Ministry of Health, part of his long-term campaign to get the government to support burn prevention and care.
A few days earlier he'd primed the director of planning at the Ministry of Health with statistics that show that burns are common in Nepal and affect poor people primarily. Today he presents his case to the minister. Rai asks him to provide financial support for government doctors and nurses to take a training course that he offers for free. It's not a big ask. "I never want to put someone in a position of having to say no," he says later. "If I sense that is coming, I back away."
The minister interrupts Rai halfway through his presentation. "Yes," he says. He'll try and find the money.
Rai expects to continue to work as long as he can. He's got some big projects going—he's working with burn victims and advocates to create a local burn foundation, and he's working on a burn insurance initiative for poor people.
Ask his wife Shanti Rai if she thinks he'll ever retire, and she laughs. "No," she says. "Never."
Read the entire "Blazing Injustice" series here.
Joanne Silberner, an 18-year veteran of NPR's Science Desk, is a freelance reporter focusing on global health. She also teaches journalism at the University of Washington. 
Do you know of another Untold Story you'd like GHN to tell? If so, please enter the Untold Global Health Stories of 2018 Contest by November 10, 2017.
Join the thousands of subscribers who rely on Global Health NOW summaries and exclusive articles for the latest public health news. Sign up for our free weekday enewsletter, and please share the link with friends and colleagues: http://www.globalhealthnow.org/subscribe.html