This One's for the Storytellers
May 03, 2019
GHN lives to highlight the critical health stories in the news—so we're thrilled to be at the Association of Health Care Journalists conference happening now in Baltimore.
A big GHN welcome to all the journalists attending the conference, including many from publications GHN regularly features—such as The Boston Globe, STAT, USA Today, Scientific American, and the New York Times. What started as a small handful of journalists wanting to help each other has grown into a record number (760) of attendees, as Len Bruzzese, the executive director of AHCJ, said in his opening remarks. (Sorry, Boston 2012, Baltimore wins!)
Last night's opening session included an address on cancer disparities in the US. "One way to define health disparities? There are people suffering and dying because they don't get what people ought to be getting," said Otis Brawley, a Bloomberg Distinguished Professor at Johns Hopkins University.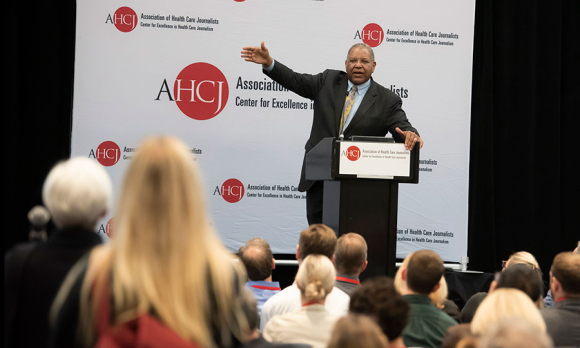 Brawley argued that the US needs to prioritize eliminating disparities that are economic, urban-rural, racial and now between states that have supported Medicaid expansion and have not. He touched on the need to get back to prevention and how to get everyone access to care.
His top priority now? He wants to get politicians to care about Americans. "When you are saying you're going to tear down our current health care system and not replace it with anything, you're saying let those people suffer and die," Brawley said.
A clear sign this conference is for journalists: The line of people asking questions stretched to the back of the room.
In welcoming the more than 700 conference attendees, Ellen J. MacKenzie, dean of the Johns Hopkins Bloomberg School of Public Health , said it best, at the welcome session: "Thank you all for the articles you write, the hard questions you ask, and your abiding respect for truth and evidence.
"Thank you for producing real news!"
Ed. Note:
If you're in Baltimore for the conference, don't miss this afternoon's panel moderated by Global Health NOW Editor-in-Chief Brian W. Simpson: "Global health in America: Local health programs modeled on African and Asian initiatives." It's at 1:40 pm in Key 11-12.
And please stop by the GHN exhibit booth (#35) and let us know what you're working on.