New Haven for Innovation: Unite for Sight 2018
April 16, 2018
Thanks for a Great Conference, Unite for Sight!
We'd like to thank the wonderful people behind Unite for Sight for a spirited conference this past weekend—GHN's first time attending! GHN was thrilled to welcome new subscribers from schools including Yale University, Université de Montréal, University at Buffalo, Harvard, Howard University, St. Catherine University, Dartmouth, and many health innovators from around the world—including Pakistan, Niger, Mali, and Nicaragua. New subscribers: If you enjoy GHN, please share our free subscribe link with your colleagues and friends back home: https://www.globalhealthnow.org/subscribe
The whirlwind weekend attracted nearly 2,000 participants from 55 countries to talk about big ideas to transform global health. Here are some highlights, from GHN's Dayna Kerecman Myers.
The Audacious Plan to Transform Community Health Worker Education April 15, 2018
Making the case for going big, James Nardella, who serves as a principal at the Skoll Foundation, brought together panelists at the Global Health & Innovation conference to talk about one of the Audacious Project's big ideas.
The initiative, revealed at the Skoll World Forum last week at Oxford University, aims to deploy 50,000 community health workers (CHWs)—with the goal of reaching 34 million people. Living Goods and Last Mile Health, the organization led by Raj Panjabi (recently covered in a GHN exclusive), will use the support to grow the Community Health Academy and expand online training courses to CHWs. It's a big bet—high potential, but also high risk, said Nardella—but if it succeeds, it will significantly reduce mat and child mortality and block disease outbreaks.
There's a need for the project, Nardella said, because there's a gap between best practices developed and tested on the ground by groups like Last Mile Health and national networks of CHWs. That's why governments will be a critical focus, Abigail McDaniel of Last Mile Health, one of the panelists, emphasized the project's intent to make sure it's a government owned and implemented program, with partners providing financial and technical support in the background—"taking ownership or ego out of it and showcasing the government."
The Audacious Project is a collaboration of donors (including The Bill and Melinda Gates Foundation, the Dalio Foundation, the Skoll Foundation, and Virgin Unite) teaming up to raise $250 million to fund up to 5 critical projects a year with the potential to deliver massive, global change, according to TED, where the initiative launched earlier this month.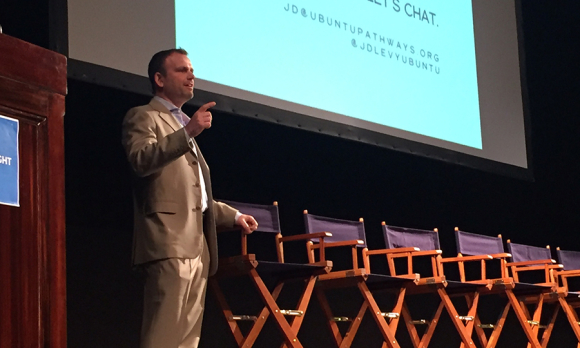 Focus on Lives Transformed, Trust Those Closest to the Problem, and Restricted Funding Is "Bad Tequila" April 14, 2018
The smiling people on the project websites never tell the whole story—the real work of global health and development takes hard work, realistic goals, admitting to failure, and sticking around long enough to fix the problems, Jordan Levy told Unite for Sight attendees Saturday.
Framing the 15th Global Health & Innovation Conference's focus on responsible work and cultural humility, Levy, the Chief External Relations Officer of Ubuntu Pathways, shared some tough truths based on his years of experience in South Africa.
Highlights:
"Trust those closest to the problem to develop the solution. Hire locally, live locally, engage locally."
"Impact through depth, focus on lives transformed, not lives touched—and that means a real, sustained relationship."
"Unrestricted funding is like your favorite drink … let's say a craft beer, goes down easy, you feel great. Restricted funding is bad tequila. It goes down rough, and then the next thing you know, you're in a place you don't recognize, and you've lost some of your integrity."
***
GHN's Unite for Sight exhibit booth had a furry visitor. Mac, a yellow lab from Assistance Dogs of Hawaii, held court in front our booth, assembling quite a following and prompting a suggestion that we change our name to Global Health NOW ... and Dogs. Mac,will you be GHN's mascot?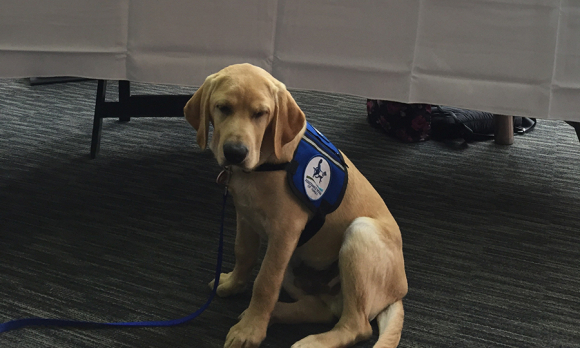 Join the tens of thousands of subscribers who rely on Global Health NOW summaries and exclusive articles for the latest public health news. Sign up for our free weekday enewsletter, and please share the link with friends and colleagues: http://www.globalhealthnow.org/subscribe.html