Bloomberg Global Business Forum 2017: Globalization's Challenges and Opportunities
September 20, 2017
NEW YORK—Exploring the role businesses can play tackling some of the world's thorniest challenges, the Bloomberg Global Business Forum is underway at the Plaza Hotel. Hosted during the UN General Assembly in New York, the forum convenes top government and business leaders to talk about the opportunities as well as the challenges in our era of globalization. Watch the livestream, read Michael R. Bloomberg's piece framing the event's purpose and goals, join the conversation on Twitter #BloombergGBF and check back for updates from GHN's coverage of the day's events.
***
Image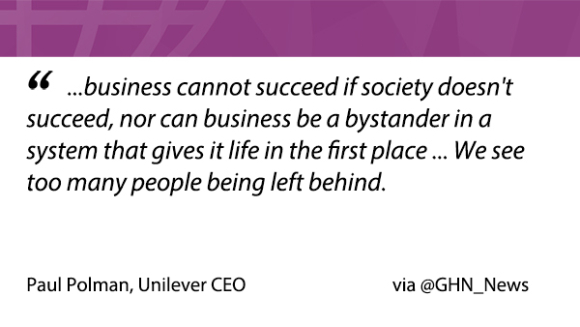 ***
Details Announced for Next Year's California-Hosted Climate Summit
NEW YORK—California Governor Edmund G. Brown Jr. announced the co-chairs of the the Global Climate Action Summit from September 12-14, 2018 in San Francisco, California at the Bloomberg Global Business Forum today. Patricia Espinosa, UN Secretary-General's Special Envoy for Cities and Climate Change Michael Bloomberg and Mahindra Group Chair Anand Mahindra will co-chair the event.
"Together I believe Governor Brown, Anand Mahindra, Michael Bloomberg and myself can bring together the necessary worlds of sub-national governments, business and international policy ... to ensure the Summit delivers on its ambition," said Espinosa.
It will mark the first time a US state hosts people around the globe to support the Paris Agreement.
*** 
Image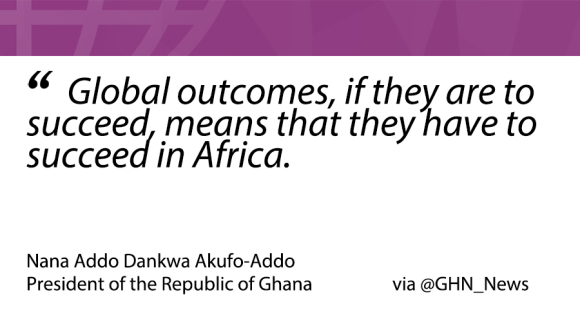 ***
Pitch for Partnership
NEW YORK—The rising trend of tribalism threatens the capacity of our interdependent world to respond to disasters and challenges like the earthquakes, storms and refugee crises that have battered the world recently, former President Bill Clinton said in an opening address to the Bloomberg Global Business Forum today.
As the many crises demonstrate, while globalization has brought progress to many, there are many people who "feel left out, left behind, alienated politically, socially and economically and are very much in need of a hand up to be part of the future that we now take for granted. To help them, "we must expand the definition of us, and shrink the definition of them," Clinton said.
Making the case that partnerships are critical to counter the threat, Clinton pointed to the global development goals in focus at #UNGA72 this week. Noting that more than 80% of the thousands of commitments made during the Global Initiative years have been fully completed—to the benefit of more than 400 million people in 180 countries—he credited partnerships between government, business, philanthropy and nonprofits. Arguing that the fate of the goals still in progress will hinge on the strength of such partnerships, he said "… In this time of debating what that means in practical terms for the future of the UN, the future of the European Union, the future of the United States, who should vote, who should have a voice, the most important thing is whether you believe that social strength, economic performance, and political power flow from division or multiplication, from subtraction or addition."—Dayna Kerecman Myers
Join the thousands of subscribers who rely on Global Health NOW summaries and exclusive articles for the latest public health news. Sign up for our free weekday enewsletter, and please share the link with friends and colleagues: http://www.globalhealthnow.org/subscribe.html