Secrets to Stronger Health Systems: A Q&A with David Bishai
January 13, 2017
They came from Mozambique, India, Sri Lanka, Qatar, Switzerland, Brazil, the US and Uganda. The 20 public health experts gathered in late November in Bellagio, Italy. Their goal: Help countries strengthen public health practice so they can achieve the Sustainable Development Goals.
It's not unrealistic: Almost everyone in the world lives in a health district of one kind or another so quality public health services should be within reach, says David Bishai, a meeting organizer and a health economist at the Johns Hopkins Bloomberg School of Public Health. Local health districts just need support and training.
Meeting attendees from WHO, Fundação Oswaldo Cruz, Makerere University, health ministries and other organizations sought ways to empower local communities to act on health problems. Sharing best practices, the group developed case studies, tools and instruments, and updated performance measurement approaches that can lead to more effective public health practice, Bishai says.
Outcomes include a YouTube playlist of lectures and an upcoming white paper that can serve as a blueprint for strengthening public health practice. 
In this Q&A, Bishai explains the commonalities in public health in wealthy and resource-poor countries, the affordability of good public health systems and who's making the most dramatic improvements in public health.

Could you give us a "low-hanging fruit" example of the kind of advances in public health system strengthening this group is aiming for?
The paradigm of "low hanging fruit" is emblematic of most discourse in global health; it evokes imagery of communities who need items that are just out of their reach. The need is real. However, the Bellagio Conference that Johns Hopkins faculty sponsored met to discuss fruit that is already on the ground so to speak. This world has 60,000 local health departments. Nearly everybody on earth is in a health district of some sort. What is just out reach for billions is getting that health department to undertake best practices in public health. It's really not that hard to achieve. The districts are supposed to receive some sort of supportive supervision from the central government. Too often this gets skipped. Too rarely do local health departments get support and training in how to do the essential public health functions.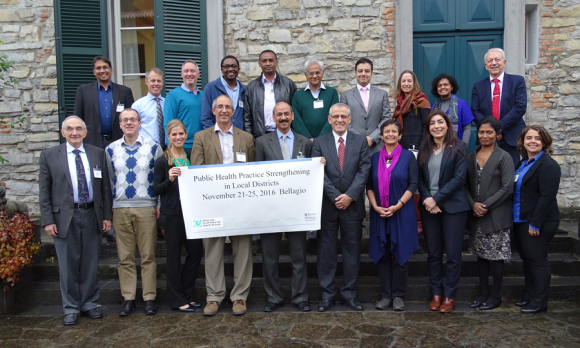 Public health systems are very different in countries like Nigeria, Singapore, Brazil, Australia, etc. How do you improve systems when they're so different?
There are actually incredible similarities in what has to get done in every local public health district on the planet.  All health districts need to assess the health and health risks of the community. All districts need to convene the people of the community to understand their health risks. All health districts need to assure that effective responses are carried out. The basics are the same, and quality improvement in these basics comes from helping people know how their performance matches against best practices and how they can improve. The differences come from local epidemiology and differences in how medical care is delivered and financed. What keeps communities healthy:  Assessment, Engaged Policy Development, and Assurance are universal principles.  
Obviously cost is a huge issue in LMICs. Can you make big improvements without a big infusion of cash?
Thanks for bringing that up.  Most countries spend no more than 2% of all health spending on public health practice. A quality improvement unit for public health practice is a "best buy." A state with a population of 30 million might have 100 public health districts of 300,000 each. They would need to invest in only 5 quality improvement personnel to provide quarterly quality improvement supervision to a circuit of 20 districts each. Providing a doctor's salary and  to the 5 public health quality supervisors and logistical support might run between $200,000 to $500,000 in a low or middle income country.  So the budget for a public health quality improvement unit would come to around one to two cents per person per year. 
What single thing in the discussions at Bellagio most surprised you?
Our group spent the last 4 hours of the conference writing a white paper on Dropbox/paper. We broke into small groups and wrote in parallel. It was amazing to see the writing teams go from 0  to 15 pages in 4 hours. Ultimately we had 20 x4 =80 hours of writing time working in parallel and wound up with a great draft.
Which LMIC is the best model for strengthening a health system?
So far, the world leader in public health practice strengthening looks like the Indian state of Tamil Nadu. The state of Tamil Nadu has implemented a statewide strategy of helping district health offices self-assess and improve the way they practice public health.
When will the white paper on this be released—and what's your ideal outcome from that?
We should have the next version of the Bellagio White Paper on Strengthening Essential Public Health Practices by February. We are aiming to circulate it at the May 2017 World Health Assembly so that the representatives who asked the WHO Director General to develop guidelines and strategy in Resolution 69.1 at the last assembly can see that their request for guidance has been taken seriously.
Last question: What's The Rockefeller Foundation Bellagio Center like?
Bellagio is like summer camp for grown-ups. It has a fair degree of regimentation of mealtimes and cocktails. There were arts and crafts to do at flip charts and whiteboards. Just like summer camp everybody got to meet some pretty cool people.